Scheme to include hotel and more than 14,000sq m of office space
AHMM has secured its second major green light in a month with the approval of a major mixed-use scheme on the site of the former Royal National Throat, Nose and Ear Hospital in King's Cross.
The practice has followed up its planning win for its redevelopment of Lasdun's IBM building with proposals to build 14,000sq m of office space, an 182-room hotel and 72 homes, half of which will be affordable, across five blocks up to 15 storeys in height.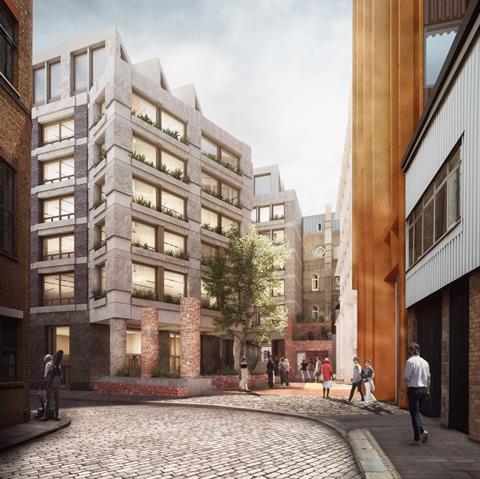 All buildings on the hospital site will be demolished to make way for the development except the main building fronting on to 330 Gray's Inn Road, which will have a two-storey roof extension added.
A restaurant, cafe, gym and new public space designed by landscape architect East will also be built as part of the proposals for developer Groveworld, which were cleared by Camden council last week.
Construction is slated to begin early next year if the scheme is given the final sign-off by the GLA.
The hospital, which is the largest centre of audiological research in Europe, was due to move to a new site in Fitzrovia last year but closed earlier than planned in March 2020 because of the covid-19 pandemic.
It was founded in 1874 and had been at its King's Cross site since 1877.
Last week, AHMM revealed plans for nearly 1,000 homes for Peabody on the site of the former Holloway Prison in north London.