IBM building makeover was redesigned after it was listed last year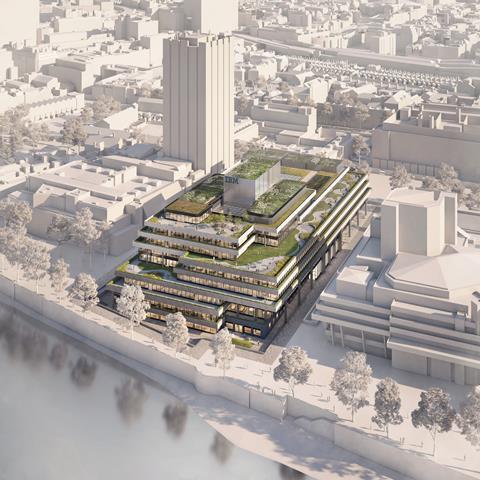 AHMM's revised plans to upgrade Denys Lasdun's IBM building on London's South Bank have been approved by Lambeth council.
The practice's original proposals for the office complex, completed in 1983, were floated early last year and envisaged the creation of an extra 20,000sq m of space through the addition of two new storeys.
But the scheme for Wolfe Commercial Properties Southbank – owned by the United Arab Emirates-based Easa Saleh Al Gurg Group – was drawn up before the building was given a grade II listing last year, in part for its "architectural concordance" with the neighbouring National Theatre, also designed by Lasdun.
Post-listing changes to the scheme failed to win the support of campaign group the Twentieth Century Society and AHMM put out new proposals which Wolfe says will "sensitively restore and upgrade the building".
The proposals cut the amount of new space set to be created at the building down to 11,000sq m, which Wolfe said would support 950 new jobs – down from the 2,000 mooted in last year's plans.
Stanhope is development manager on the project and is understood to be still deciding whether to let the job as a design and build contract or a construction management deal.
IBM will begin moving staff out of the brutalist landmark later this year for new offices at the nearby Shell Centre, with UK and Ireland general manager Sreeram Visvanathan promising in a LinkedIn post to return when work is completed.