RIBA president lauds end to borrowing cap for local authorities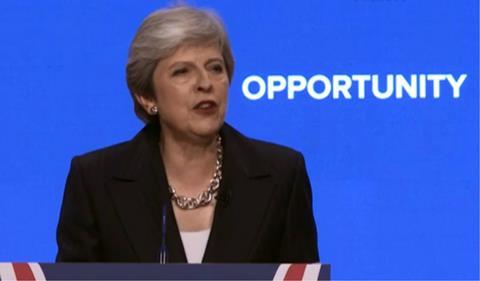 Prime minister Theresa May has signalled the start of a new era of council-house building in England by announcing an end to borrowing rules that stop local authorities using a key fund to deliver new homes.
In a measure to boost housebuilding that had gone untrailed, May used her speech to this year's Conservative Party conference in Birmingham to announce the move that councils have long called for – using the revenue from their existing social housing to invest in new stock.
The prime minister's announcement is a recognition that the only time in the past 50 years when the nation has delivered the 300,000 new homes a year her government is targeting, council homes have contributed a significant proportion of the count.
Speaking to party members at Birmingham's International Conference Centre this afternoon, May said the time had come to let councils invest properly in delivering new homes as they had done previously.
"There's a government cap on how much they can borrow against their Housing Revenue Account assets to fund new developments," she said.
"Solving the housing crisis is the biggest domestic policy challenge of our generation. It doesn't make sense to stop councils from playing their part in solving it.
"So today I can announce that we are scrapping that cap. We will help you get on the housing ladder and we will build the homes this country needs."
May did not say when the lifting of the cap would be effective from. However a social housing funding pledge that she announced last month involved money that would not be available until 2022.
RIBA president Ben Derbyshire said he was delighted that May had listened to calls for the cap to be axed – a move that the institute had been championing, and one that architects with a keen interest in social housing will also welcome.
"The prime minister quite rightly says that the housing shortage is the biggest domestic policy crisis the country faces," he said.
"But it is not enough to simply build more, the houses of today need to be designed and built to last. We will continue to work with the government to put the policies in place needed to secure high quality homes now and for the future."
Lobby group the Local Government Association also applauded May's announcement. Last month Conservative peer and LGA chairman Gary Porter rubbished May's pledge of additional funding of £2bn for social housing – as part of a fund councils and housing associations could bid for to receive from 2022 – as an inadequate measure to deal with the nation's housing crisis.
"Homes for affordable and social rent are desperately needed across the country now, not in 2022, and the measures announced fail to provide the funding certainty councils also need to play a leading role in solving our housing crisis," he said at the time.
Porter stressed that councils were "hamstrung by Treasury restrictions" which prevented them from borrowing against their existing housing stock – the HRA restriction May referred to in her speech today.
Responding to May's latest announcement, Porter said it was "fantastic" that the government had recognised that councils must be part of the solution to the nation's chronic housing shortage.
"We look forward to working with councils and the government to build those good-quality affordable new homes and infrastructure that everyone in our communities need," he said.
"Our national housing shortage is one of the most pressing issues we face and it is clear that only an increase of all types of housing – including those for affordable or social rent – will solve the housing crisis.
"The last time this country built homes at the scale that we need now was in the 1970s when councils built more than 40% of them.
"Councils were trusted to get on and build homes that their communities needed, and they delivered, and it is great that they are being given the chance to do so again."
One motivation for the introduction of the cap on councils borrowing to build new homes was the inclusion of that borrowing on official government borrowing statistics.