Chancellor boosts non-resi work and announces immediate end to local authority spending restriction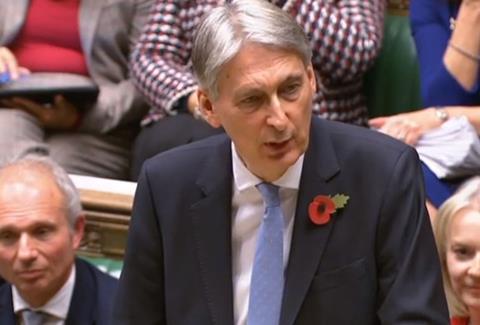 With little wriggle room, a host of pre-announced spending pledges and huge uncertainty over the UK's departure from the European Union, expectations for high drama to emerge from Philip Hammond's Autumn Budget were somewhat low.
However, the chancellor has unveiled a range of measures likely to be welcomed in the architecture and construction sector – including tax breaks for the construction of new commercial buildings and the immediate end to a local authority borrowing restriction on building new council homes.
Hammond also announced an additional £500m for the government's Housing Infrastructure Fund, taking the overall cash pot, which aims to "to unlock 650,000 homes" to £5.5bn, and a £675m Future High Streets Fund to support a refocusing away from "under-used retail" towards housing and workspace.
Also included in Hammond's Autumn Budget was a death warrant for Private Finance Initiative and PF2 funding for projects, seen as a bid to steal fire from the Labour Party.
Hammond's new tax break – the Structures and Buildings Allowance – is designed to "fill a gap" in the UK tax system and would allow tax relief on eligible construction costs for non-residential buildings "at an annual rate of 2% on a straight-line basis".
Treasury documents said the move was "a long-term commitment to improving the competitiveness of the UK as an investment destination" and was intended to "stimulate investment in structures and buildings that are intended for commercial activity".
Relief will be limited to the original cost of construction or renovation, spread across a fixed 50-year period, regardless of ownership changes, the documents said.
"Structures and buildings include offices, retail and wholesale premises, walls, bridges, tunnels, factories and warehouses," the documents confirmed. "Capital expenditure on renovations or conversions of existing commercial structures or buildings will also qualify."
At this year's Conservative Party conference, prime minister Theresa May announced the end of the borrowing cap on local authorities that stops them using funds in their Housing Revenue Account to invest in new council homes.
Today, the Treasury's budget-supporting "red book" documents confirmed that the borrowing cap would end in England with immediate effect, "enabling councils to increase house building to around 10,000 homes per year". The documents said restrictions were also expected to end in Wales with immediate effect.
Elsewhere, Hammond reaffirmed the government's commitment to planning reform and continuing change-of-use rule relaxations that allow new homes to be delivered in buildings designed for other uses – building on the recent controversial office-to-resi phenomenon.
The chancellor announced the launch of a trailed consultation on new permitted development rights to allow upwards extensions above commercial premises and residential properties, including blocks of flats. It also looks at the demolition of commercial buildings for replacement with new homes.
Despite heralding the scrapping of PFI and PF2 for future projects, Hammond told the House of Commons that existing contracts would be honoured but stressed that the government would be "no pushover" in their management.
In an admission that the move may have been more about political point-scoring than a radical change of direction for a Conservative government, the chancellor stressed he was "committed" to public-private partnership – or PPP – "where it delivers value to the taxpayer and shifts risk to private sector".
Other measures saw the extension of the projected lifespan of the government's Help to Buy scheme, which offers equity loans to homebuyers for properties worth up to £600,000.
While the move paves the way for Help to Buy to continue until March 2023, new restrictions mean that from April 2021 loans will only be available to first-time buyers.
Elsewhere, the chancellor committed £20m to further develop plans for the "critical central section" of the east-west rail link to support the Oxford-Cambridge arc, earmarked for 1m new homes by 2050.
The Treasury red book said the funding would explore which routes between Cambridge and Bedford best supported the government's vision for the new homes.