Mayor of London berates predecessor Boris Johnson for backing failed project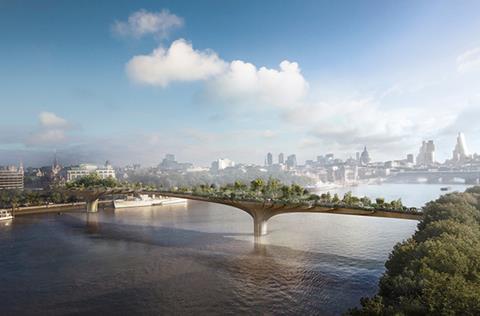 London mayor Sadiq Khan has defended his decision not to act as guarantor for the maintenance of the Garden Bridge, prompting the controversial project's abandonment this week.
Khan said agreeing to underwrite the annual cost – a condition for planning consent for the scheme – would have exposed London taxpayers to a potentially bottomless pit of expense, and criticised his predecessor Boris Johnson for backing the Thomas Heatherwick-designed structure.
The mayor was speaking after the charity founded to deliver the pedestrian-only bridge announced it was winding itself up because it could not secure replacement funding in the wake of Khan's decision earlier this year.
Garden Bridge Trust chair Lord Mervyn Davies said the decision to throw in the towel on the project was "all the more disappointing" because the organisataion had been set up at the request of mayoral body Transport for London.
"It is a sad day for London because it is sending out a message to the world that we can no longer deliver such exciting project," he said.
According to an independent review of the project conducted by MP Margaret Hodge that was undertaken for Khan and published in April, the project had a funding gap of £70m and was on course for a final project cost of more than £200m, well over three times as much as an early projection of £60m.
Around £37.4m of public money – split between the Department for Transport and TfL – is estimated to have already been spent on the bridge and the figure could rise to £46.4m with cancellation costs.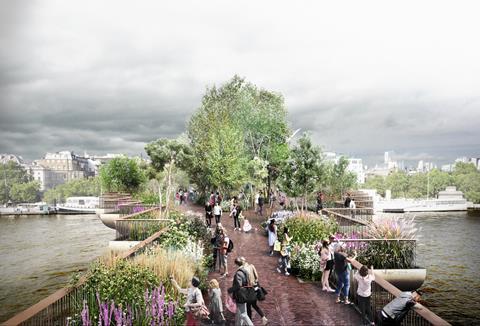 Responding to the trust's decision to abandon the project and commence wind-up proceedings, Khan said it was his duty to ensure taxpayers' money was spent responsibly.
"Following the very serious issues highlighted in Dame Margaret Hodge's independent review of the bridge – including a funding gap of over £70 million, potentially unlimited costs to London taxpayers to fund the bridge in the future, systemic failings in the procurement process and decisions not being driven by value for money – I could not permit a single penny more of London taxpayers' money being spent on it.
"I have been clear since before I became mayor that no more London taxpayers' money should be spent on this project and when I took office I gave the Garden Bridge Trust time to try and address the multiple serious issues with it.
"Londoners will, like me, be very angry that London taxpayers have now lost tens of millions of pounds – committed by the previous mayor on a project that has amounted to nothing."
A statement issued to talk radio station LBC on behalf of Johnson, who is now foreign secretary, accused Khan of killing off the project "out of spite" because it had not been initiated during his time in office.