Institute says government announcement must be start of engagement with business
RIBA's chief executive welcomed the government's industrial strategy but insisted it must be matched by an immigration system that allows British firms to recruit global talent.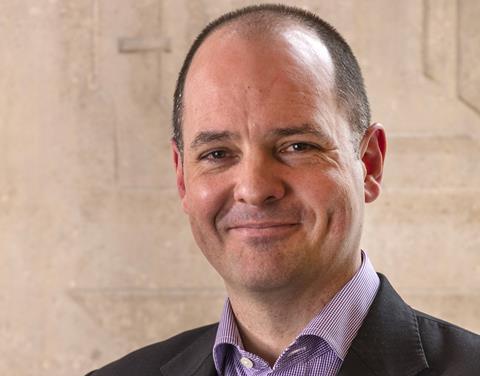 Providing clarity for EU citizens living in the UK – on whom many British architectural practices depend – would be a good start, said Alan Vallance.
He was responding to today's publication of the government's long-term industrial strategy which sets out a vision for how Britain can strengthen its economy, improve productivity, embrace technological change and boost wages.
It includes a £250m construction industry "sector deal" to spend on innovation, research and development.
Vallance said the institute saw the strategy as the start, not the end, of engagement between business and the government.
"An effective UK-wide industrial strategy is vital as we navigate towards Brexit and beyond," he said.
"Delivered alongside substantial investments in our lagging infrastructure, it has the potential to greatly improve productivity.
"We welcome the renewed focus on developing workers' skills but we need to recognise that the UK is at its strongest when we compete globally for talent. Alongside supporting our world-class university system and developing new routes like apprenticeships, we need an immigration system that allows UK business to thrive around the world. A good start would be clarity for EU citizens living in the UK."
He congratulated the Construction Leadership Council on developing the construction sector deal, particularly its "exciting progress" on offsite manufacturing. But he said the new procurement standard for the construction industry needs to be owned by the whole sector, not just the larger builders.
He said the RIBA and Creative Industries Council would continue to work on the sector deal for the creative industries.
"The focus on regional hubs, like RIBA North in Liverpool, and the recognition of the value our sector plays at home and abroad is incredibly welcome," he added.
The government also committed to investing £725m over the next three years in the Industrial Strategy Challenge Fund (ISCF) including £170m earmarked to transform construction and help create affordable places to live and work that are "safer, healthier and use less energy".
The strategy identified four grand challenges – global trends that the UK must tackle: AI, clean growth, an ageing society and the future of mobility.
Julie Hirigoyen, UKGBC chief executive, said: "With the built environment sector able to influence 42% of the UK's carbon emissions, we welcome the construction sector deal, with its new focus on the whole life cost of projects.
"But to ensure this approach gathers pace, the focus on whole life costs must be reflected across all relevant policy areas, including building regulations and government procurement standards.
"Future deals with construction must also go further by recognising the importance of our existing building stock as an opportunity to create jobs and cut emissions."