Scheme for 3,000 homes at former Ford factory 'would be a carbuncle'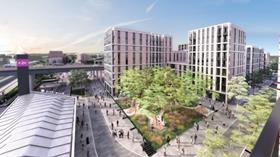 Plans by Patel Taylor to build close to 3,000 homes on a former Ford car plant in Essex have been called in by London's deputy mayor after the scheme was thrown out by the local council last month.
Local authority Havering council said the Beam Park plans in Dagenham, by Countryside and L&Q, to build 2,900 homes were not good enough, putting it at odds with neighbouring Barking & Dagenham which had already approved the scheme.
But councillor Graham Williamson, of Havering's Independent Residents' Group, said the developer's decision to build apartment blocks ranging from five to nine storeys would be a blight.
He added: "In its current form the application would be a carbuncle to the area."
A report by planning officers had recommended councillors approve planning permission – even though the plans breached the borough's planning guidelines for the development.
The report said: "While the heights proposed in places exceed those suggested in the [guidelines] it is considered that the development exhibits none of the characteristics of overdevelopment."
But the plans were thrown out and Williamson added: "If built as presented it would be more fitting of something in inner London rather than an outer borough."
Now London's deputy mayor for planning, regeneration and skills, Jules Pipe, said he wants to take a second look at Havering's decision. The scheme sits in the London Riverside Opportunity Area, which wants to build 26,500 homes across Havering and Barking & Dagenham, and is the first on GLA-owned land to be called in.
The scheme includes proposals for 50% of the homes to be affordable and Pipe said: "This is a large, very important site.
"Having weighed up the evidence available to me and given its importance, I have decided to call in this application so it can be subjected to further scrutiny."
A decision will be made later this year.
The 29ha site sites next to the river Beam and was handed over to Countryside and L&Q more than two years ago after the pair beat three others to the job.
At the time, London's then mayor Boris Johnson said: "The [award] marks the final land release for development of over 400ha of surplus land owned by the authority."
It will include a new railway station with a link into London's Fenchurch Street along with a new primary school.
The site was used for the dress rehearsal of the opening ceremony of the 2012 Olympic Games.