The manufacturer has launched its lowest embodied carbon access floor panel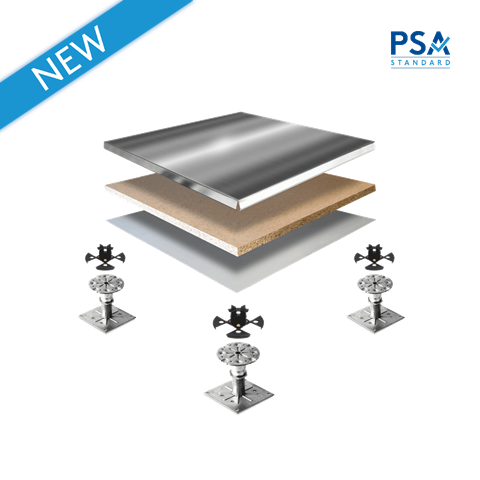 Kingspan has launched RMG600+ – the team's lowest embodied carbon access floor panel.
The product is said to offer the same strength and performance as the standard RMG600 panel – made from a combination of steel and wood – but with a minimum of 86% recycled content.
During the lifetime of a tree, the wood will sequester carbon from the atmosphere. The larger the tree and the longer it lives, the more carbon it sequesters.
When wood is used for a building product instead of burning, the carbon will be stored for as long as the material is used or until the building's end-of-life.
The electric arc furnace steel made from a minimum of 86% recycled content, paired with the benefits from biogenic carbon in the wood helps the product achieve a lower embodied carbon content.
According to the manufacturer, the RMG600+ embodied carbon results indicate -3.04 kg CO2e per panel across the modules A1-A3 (product stage).
Certified with an Environmental Product Declaration (EPD), the access floor panel also comes with a 25-year warranty.
"The introduction of our New Kingspan RMG600+ highlights a significant milestone in our journey to decarbonisation. Completing an independent verification and Environmental Product Declaration assessment was a key step in demonstrating our commitment to lower carbon solutions," said Debra Smith, divisional sustainability manager at Kingspan Data & Flooring.
Smith joined a panel of experts, hosted by Assemble Media Group, to discuss the challenges and potential solutions for achieving net zero in the commercial real estate space. To find out more about specifying for net zero in the commercial sector, you can watch the full session on demand here.