A new festival at Kew showcases a diverse range of voices and artists by exploring their relationship to plants and nature, writes Sarah Simpkin
Decimus Burton's Temperate House at Kew Gardens reopened in 2018 following a six-year restoration project by Donald Insall Associates. During their analysis of the building, paint studies revealed that in the 1860s, its walls were stone-coloured, with pale blue and white decoration, and that later blocks were originally painted green. This was all covered by white titanium dioxide in the 1950s. Now colour is back, in the form of bold, bright installations for Kew's Queer Nature festival this October – a celebration of LGBTQ+ voices, and the diversity and beauty of its plants and fungi.
The largest commission, House of Spirits consists of wide translucent banners, almost the full height of the 19-metre space, suspended from the steel frame above the glasshouse's central clearing. They are by New York-based artist, Jeff Gibson – a coup for Kew, as he's due to represent the USA at next year's Venice Biennale. The motif is a patchwork of printed squares, overlaid with botanical illustrations, patterns and fragments of text. Glimpsed through the canopy of trees, they come to life against the glass and sky. Critic, Ian Nairn saw Burton's Temperate House as the poor relation to the Palm House; probably right, but the space is more generous to these kinds of installations.
Following the paths through the undergrowth, visitors can listen to Reverberations, an original spoken word piece by LiLi K. Bright and Ama Josephine Budge Johnstone. Occasionally, a purple plaque will give an interesting detail about a particular plant or fungus. For example, the Wood's cycad, which has been known to spontaneously produce suckers that change their sex from their parent plant. Or a bisexual palm.
Adam Nathaniel Furman's installation, Queer Voices helps to bring the festival together, visually and conceptually, in a 'church to queerness'. They have created an enclosure within the octagon, bounded by five-metre-long patterned silk hangings. Screened inside are films of some of the featured artists and designers, along with drag artists, botanists, writers, and members of different teams at Kew. The effect of the stories and fabric transforms the acoustics and experience of the glasshouse into something intimate and celebratory. The installation also invites participation; there are tags for visitors to write their own note to hang on the structure.
The ornamental pattern on the silk is a repeating scroll of symbolically significant colours and flowers: lavender, pansies, carnations and violets that reference queer history, and emerged through often very technical conversations between the designer and botanists. "I wanted the pattern to be deeply British and deeply queer all at once," Adam has explained. "Queer life has always been present in design history, but sometimes it has had to lurk beneath the surface. There's a radicality in that."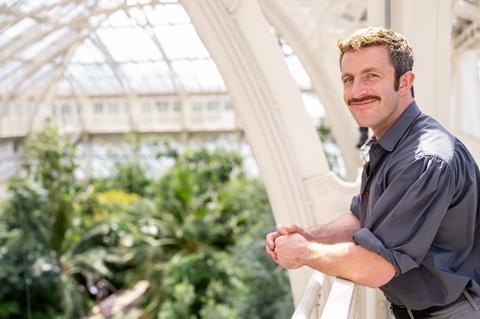 In the south octagon, garden designer Patrick Featherstone has collaborated with Kew Youth Forum to devise a festival garden of non-binary species. An interesting feature is the idea of 'chosen families' of mutually supportive plants, rather than evolutionary lines – an alternative perspective on planting that could offer lessons for the design of more resilient landscapes.
In Queer Nature, Kew's celebration of the extraordinary diversity of plants has allowed the commissioning of intelligent, engaging works of art and design. But in some places, the results, however well-intentioned, aren't fully coherent. For example, walking through the grounds, you might encounter a purple festival-branded placard stuck into the grass with a photo and quote. Look… Derek Jarman! Oscar Wilde! It also seems inconsistent that there was no obvious merchandise for the festival in the gift shop, on opening day at least.
The theme relates very closely to the work of landscape architect, artist and ceramicist, Rowland Byass, who runs a queer artist residency called Plant Magic in Spain. He found individual works compelling, but favoured a 'show, don't tell' approach, questioning some of the exhibition's interpretative texts, which talked about examples of plant species that 'challenged' normative ideas of gender, sexuality and family. As he said, "Plants aren't challenging anything. The argument from nature is a counter to the 'homosexuality is unnatural' trope. But natural doesn't tell us anything – it just is. It's only a mirror for human values because we make it so."
One of the most poignant pieces in the Temperate House is also one of the most subtle: a small bed of purple pansies to signify the Pansy Project, an ongoing work by 'accidental activist' Paul Harfleet. The artist plants a single pansy in the nearest source of soil to the site of an incidence of homophobic abuse, documents and titles it. A powerful gesture to reclaim both the word 'pansy' and public space with something beautiful, with new growth through adversity. And perhaps a reminder of why a joyful festival of Queer Nature in such a significant public institution matters.
Postscript
Queer Nature runs at Kew Gardens from 30th September to 29th October 2023.