Practice pips bids by Kavakava with AZPML and Alver Architects for Baltic blueprint
Zaha Hadid Architects has been picked to deliver a masterplan for the development the Port of Tallinn over the next 12 years.
The practice beat competition from two shortlist rivals for the job – Estonian practice Alver Architects and a joint bid by domestic practice Kavakava with Alejandro Zaera-Polo Maider Llaguno Architecture.
The design contest brief was to deliver development plans for the Estonian capital's Old City Harbour that better connect the city and its public spaces with the functions of the port.
Key elements included the delivery of improved passenger facilities at the port – which is a major cruise-liner destination and has numerous cross-Baltic ferry services, a vision for the local residential environment, trade and commerce elements, and new public space.
Valdo Kalm, chairman of the Port of Tallinn management board, said the ZHA proposals stood out for their innovative and integrated approach to the city's maritime gateway.
"Zaha Hadid Architects have very skilfully created a balanced connection between urban space and the port area with some carefully considered access roads and traffic solutions," he said.
"What stands out in their designs are the diagonals running through them of the pedestrian footpaths, around which a very diverse and memorable city space has been established.
"Interesting details include the water features they've designed along Reidi Street and their partial – and very smooth and effective – raising of the areas for pedestrians up to another level."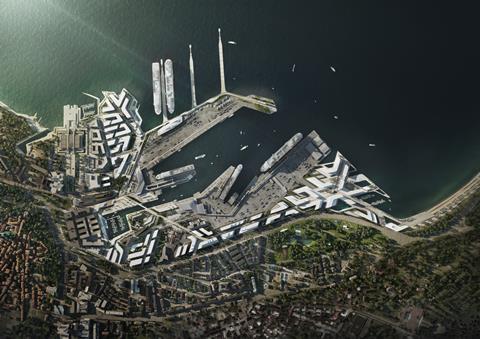 The practice said its vision "re-establishes and reinforces" the links between the port and Tallinn's Old Town, which is a Unesco World Heritage Site and one of the best-preserved medieval cities in Europe.
"The new masterplan celebrates this diversity and links together disparate districts of the city, creating a vibrant new community near the city centre that will provide an alternative to the city's Soviet-era housing stock," it said.
The masterplan is due for completion by the end of this year.