Footage showed concrete slab fly across barrier, almost hitting worker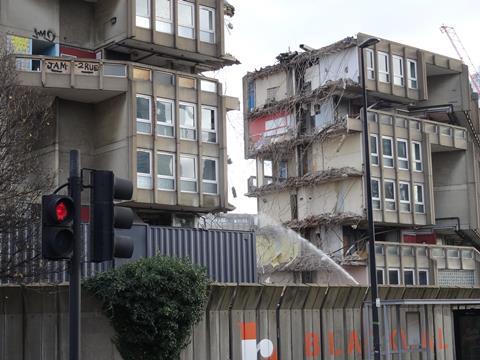 Demoliton of Robin Hood Gardens was paused for five days after footage of a potentially deadly accident surfaced.
Developer Swan Housing revealed work on the site stopped for almost a week after footage emerged of a concrete block flying across a barrier towards a worker.
A spokeswoman for the developer said the firm was "shocked by the footage" and had not been aware until then that the incident had taken place.
She said: "On receipt of this information, we notified our principal contractor Hill Partnerships that no further work should take place on the demolition site until we were reassured that all appropriate health and safety measures were in place. The site remained closed between April 5 and 10.
"The site was only allowed to reopen after a rigorous investigation was carried out and extra measures put in place including additional oversight by the principal contractor Hill Partnerships, an independent health and safety audit having been carried out and the Health and Safety Executive having been informed.
"In the meantime, we would like to stress that we have a rigorous health and safety regime in place to protect workers and the public and expect all our contractors to maintain the highest standards of health and safety."
The spokeswoman said Swan Housing would investigate any concerns from the public about onsite safety issues.
A Hill spokesperson said: "We recently undertook a controlled demolition at our Blackwall Reach site. As a precaution our demolition contractors operatives closed off all public access to the road alongside the demolition area in the event that any debris resulting from the demolition did fall outside of the perimeter of the site.
"We are undertaking an internal investigation to understand why our demolition workmen were in such close proximity. We take the safety of our employees, subcontractors and the general public very seriously and are therefore immediately reviewing the incident to ensure we meet the highest health and safety standards."