Contractors start demolishing the Smithsons' bitterly fought-for flats
The full-scale demolition of Robin Hood Gardens has begun, 10 years after BD led a high-profile international campaign to save it.
The bulldozers moved in last week and demolition will continue until the spring at Peter and Alison Smithson's seminal east London housing project.
Work began near the northern end of the westerly block, the lower of the two cranked terraces which face each other across a landscape created from the rubble of the Victorian tenements they replaced.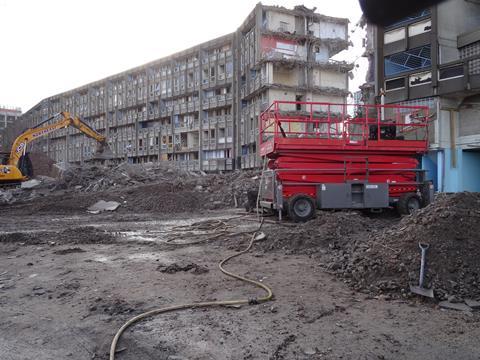 The Twentieth Century Society's Thaddeus Zupancic, who took these photographs, and Elain Harwood said contractors appeared to have started near one of the service cores because, having been built in situ, they will take longer to demolish than the main pre-cast concrete terraces.
Although it looks like they have sliced out a section for the V&A, the museum has actually acquired a three-storey chunk from the middle of the terrace which will be dismantled piece by piece rather than being cut out, said a spokeswoman.
The museum bought the 8.8x5.5x8m fragment last month to preserve it for future generations. The museum said it was interested in both the building, which it described as an important step in modernism's development into brutalism, and the campaign to save it, though the V&A director at the time Mark Jones would not sign BD's petition.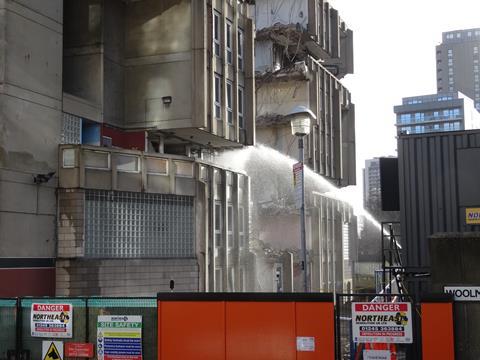 Backed by the Twentieth Century Society, BD's Rescue Robin Hood Gardens campaign was supported by leading architects and critics including Pritzker prizewinners Robert Venturi, Richard Meier, Richard Rogers and Zaha Hadid.
BD editor Thomas Lane said: "It is a great shame to see Robin Hood Gardens going after we campaigned so hard, and with so much support from the profession, to save it.
"As the reinvention of pioneering 1960s local authority schemes such as Park Hill has demonstrated Robin Hood Gardens could have been refurbished to provide quality housing fit for 21st-century living and retained one of the 20th century's seminal schemes for posterity."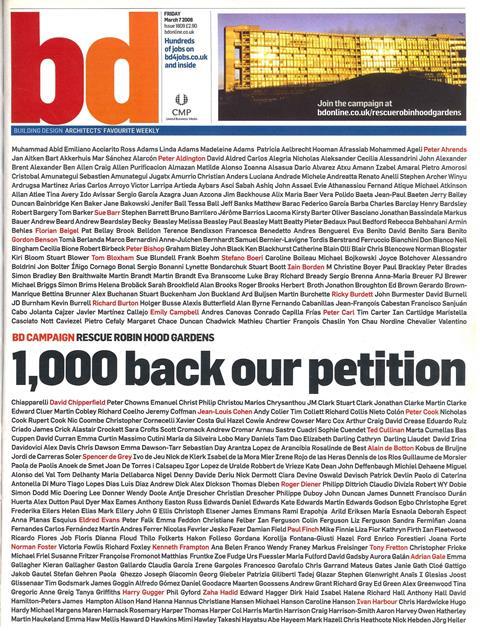 Robin Hood Gardens, which was built by the GLC from pre-cast concrete in 1972, contained 213 flats and was one of only a couple of projects where the famous streets in the sky concept was realised.
It was described by Thomas Bender, then lead adviser at Design Council Cabe, as "an outstanding example of architectural and social aspiration, unique in London and highly significant in the national context".
But Historic England did not consider it worthy of listing and, despite strenuous efforts by others, a certificate of immunity from listing was issued in 2015.
Robin Hood Gardens will be replaced by 1,500 flats in blocks designed by Haworth Tompkins, Metropolitan Workshop and Karakusevic Carson, among other architects. The so-called Blackwall Reach scheme is being developed by Swan Housing, Tower Hamlets council and the GLA.