Climbable structure addresses housing and climate crises
Waugh Thistleton Architects is designing a 9m tall pavilion for the V&A's new Sackler courtyard beside Exhibition Road.
The project, MultiPly, will arrive on site like a piece of flat-pack furniture and be built in less than a week using a flexible system made of 17 modules of American tulipwood cross-laminated timber with digitally fabricated joints.
The maze-like spaces will allow visitors to explore a series of stairs, corridors and open spaces.
"The structure will lead people on a merry dance up and down staircases and across bridges exploring space and light," said Andrew Waugh, co-founder of Waugh Thistleton.
"The main ambition of this project is to publicly debate how environmental challenges can be addressed through innovative, affordable construction.
"We are at a crisis point in terms of both housing and CO2 emissions and we believe that building in a versatile, sustainable material such as tulipwood is an important way of addressing these issues."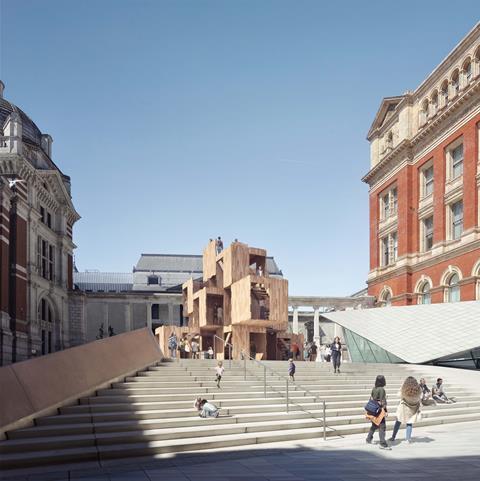 MultiPly will be one of the London Design Festival's landmark projects and will open on September 15. It will be disassembled at the end of the festival and rebuilt in a new location.
The engineer is Arup.