Council criticises Liam O'Connor's 'intricate' plinth as Emmeline Pankhurst faces off against Millicent Fawcett
Westminster council is tonight set to reject plans to erect a statue in Parliament Square honouring Suffragette Emmeline Pankhurst in favour of a tribute to Suffragist Millicent Fawcett.
Councillors on its planning committee are being advised to block an application to build a double-life-sized effigy of Pankhurst by Angela Connor on Canning Green, in front of the Supreme Court, choosing instead a smaller work depicting Fawcett by Turner Prize-winner Gillian Wearing on a different site in Parliament Square.
In a report to the meeting, officers said that there was already a grade II-listed statue honouring Pankhurst in nearby Tower Gardens and that councillors would need an "exceptionally good reason" to approve the application.
They added that if a recommendation had been made to approve the bronze Pankhurst statue it would likely have included a requirement for amendments to the proposed plinth – designed by Liam O'Connor Architects and Planning Consultants, whose Bomber Command memorial in Green Pak was nominated for the Carbuncle Cup.
"Some of the details of the plinth are quite intricate and it is considered that a more simple treatment to the plinth would better suit the character of the area and other statues nearby," they said.
Their report pointed to planning guidance that said the Parliament Square area was a "saturation zone" for statuary, and that the site of the proposed Pankhurst tribute – between statues of US President Abraham Lincoln and former prime minister George Canning – would be the area's last opportunity for a new statue.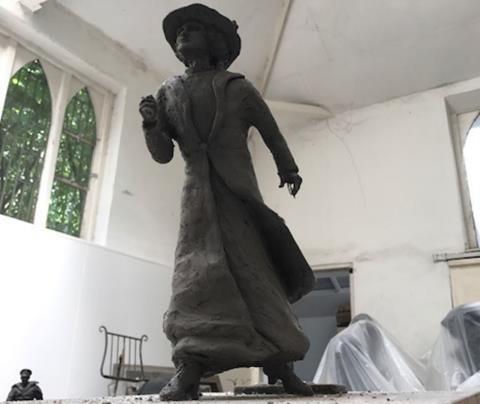 "Given the extreme scarcity of locations suitable for statues and monuments within the 'saturation zone' and particularly within Parliament Square, it is considered that there is insufficient justification to allow another monument to the same cause and person as other nearby monuments," they said.
"It is officers' considered opinion that the Millicent Fawcett statue proposed for the central square is the more considered proposal and that that site is more high profile and appropriate for the important subject being commemorated.
"Its location alongside the other civil rights activists Mandela and Gandhi seems highly appropriate. For this reason, it is not considered that the proposed monument constitutes an 'exceptionally good reason' for overturning the council's normal policy guidance."
Recommending the Fawcett statue – for which Donald Insall Associates is project architect – for approval, officers said the bronze statue would sit on a "simple granite plinth" with a design that included etchings of 52 historically important Suffragists.
Suffragettes took a more militant stance on campaigning for women's rights than Suffragists, such as Fawcett.
Prime minister Theresa May has previously voiced her support for the erection of a statue honouring Fawcett in Parliament Square.
If councillors follow officers' recommendations, the statue could be in place for next year's centenary commemorations for the Representation of the People Act, which gave property-owning women over the age of 30 the right to vote.