Scheme is architect's third to rely on digital fundraising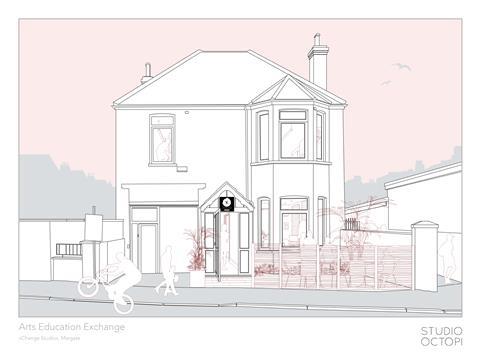 Studio Octopi has launched a £37,000 crowdfunding campaign to realise its proposal to convert a disused building in Margate into a creative education centre for disadvantaged youth.
xChange Studios will be used to train and engage young people in the Cliftonville district of the seaside town which has had major cultural investment in the last few years but which remains deprived. Cliftonville West has the highest level of child poverty in the south-east.
The centre is the brainchild of Ollie Briggs of community interest company (CIC) the Arts Education Exchange. Briggs met Studio Octopi's co-founder Chris Romer-Lee at the Royal Society of Arts where they are both fellows.
Studio Octopi has successfully used crowdfunding platforms twice before – Kickstarter for its Thames Baths project and Spacehive for the Peckham Lido – which have collectively raised more than £200,000.
Romer-Lee said: "Crowdfunding isn't perfect. Some say councils should be providing what the community is asking the crowd for, and I agree. However, councils are suffering under the central government budget cuts and if a community can pull together to make our cities better than I think that should be applauded.
"xChange Studios will provide a centre for Ollie to carry out his work with the marginalised youth of Kent. Rightly so, he decided to act and make this happen. Following on the back of the work we've done for Peckham Lido and Thames Baths, where health was at the core of the message, this is a campaign we're delighted to be bringing our crowdfunding skills to."
If the target is met, the building will be renovated and converted into a purpose-built space for the organisation's education projects which focus on visual arts, music and photography and work directly with industry professionals. The new design includes a recording studio, three multi-purpose art studios, a video editing suite, a social space and two offices.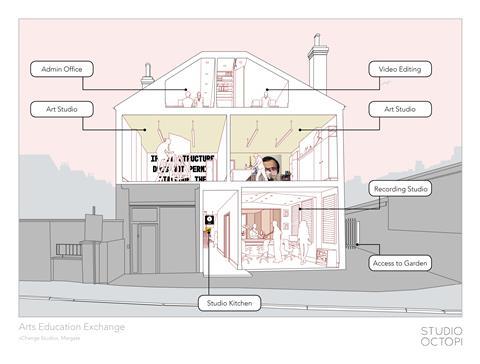 Briggs said: "Margate has been transformed in recent years into a culturally vibrant town. An influx of creative residents and local investment in the arts, including the opening of [Chipperfield's] Turner Contemporary and [Hemingway's] Dreamland have put this seaside town back on the map.
"Unfortunately, Margate is still one of the most deprived towns in the UK. Youth unemployment and crime rates and anti-social behaviour are high and civic pride remains negatively affected. Our mission is to bring these two worlds together through creative education."
The crowdfunding deadline is July 19. The project's Spacehive page is here.