Knight Architects working alongside Arcadis and TfL, though local practice ReForm previously designed a bridge for the same location
Knight Architects has joined Arcadis on the Transport for London (TfL) project team for the Rotherhithe Bridge with the appointment set to spark a row with another architectural practice which drew up a design for the crossing four years ago.
Local practice ReForm Architects created their design for the pedestrian-and-cycle bridge in 2013, with an estimated cost of £90m to £100m, after charity Sustrans suggested the idea in 2006.
But the Southwark-based architect is not involved with the proposed project TfL has been progressing for the past year, which will link Canada Water with Canary Wharf across the Thames.
A spokesperson for TfL said Knight and Arcadis were working with "other specialist suppliers to ensure the development of a cost-effective scheme". She added that the procurement process for a design-and-build contractor, which starts next month, "will be open to all suitable suppliers, including ReForm".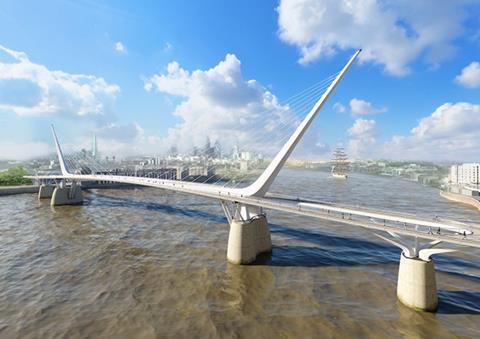 TfL is currently carrying out a business case assurance review to confirm its preferred option and the estimated final cost for the project.
It will then issue an OJEU notice, and announce shortlisted bidders in December. A public consultation on the design will begin next January.
Final completion is slated for 2020 or 2021, although Mayor of London Sadiq Khan has said that "if a bidder can deliver it sooner, their application may be considered more favourably".
The site for the bridge proposed by TfL appears to be the same as the location identified by Sustrans and ReForm, running from Durand's Wharf in Rotherhithe to Westferry Road on the Isle of Dogs, according to a document seen by BD's sister title Building.
The low-lying structure designed by ReForm, with engineers Elliott Wood, opens so that tall ships can pass, using back masts as counterweights to the bascule deck. TfL has not said if it will make use of the design.
Nik Randall, managing director of reForm Architects, said: "If our design is adopted by TfL, it will shorten the programme and greatly reduce the risk of the project stalling.
"We have assembled a world class team, including internationally renowned bridge engineers Buro Happold, and can begin the process of delivery immediately."
Knight Architects did not respond to a request for comment. The practice has designed foot-and-cycle bridges over the Thames at Taplow in Berkshire and for the Stratford City development in east London.
Arcadis said it was "working with TfL to develop options".
Confirmation that the Rotherhithe project will proceed comes in the same month that another proposed central London crossing, the controversial Garden Bridge, was formally canned.