Council signs off planning papers after development gets six-floor haircut
Rogers Stirk Harbour & Partners-designed plans for a hotel and office development in Hammersmith have been signed off by the local council after six floors were lopped off the original scheme.
The practice – which was based half a mile down the river until last year – sought permission to replace two ageing office blocks with a 28-storey hotel building with a top-level bar and new office space earlier this year. The offices are spread across the structure's lower-rise elements.
Despite being supported by a design review panel, the scheme drew local opposition in its original incarnation, attracting 68 letters of objection and concerns from the Hammersmith Society and the Hammersmith and Fulham Historic Buildings Group – both of which were worried about the scheme's height.
In April RSHP submitted revised proposals on behalf of developer Hammersmith Properties in response to the feedback, reducing the scheme's highest element to 22 storeys but keeping the other blocks at six and 12 storeys.
Those proposals have now received final sign-off after a section 106 planning obligation agreement was reached.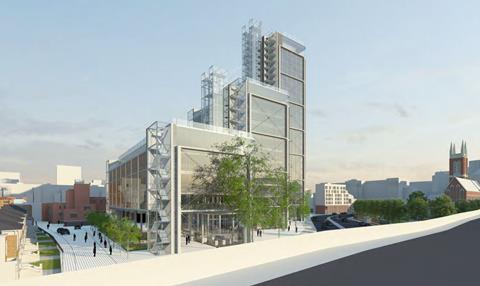 At roughly 35,000 sq m, the revised Landmark House scheme gives similar overall floorspace to the earlier incarnation by removing two mezzanine levels in the hotel, widening the east-west width of the project, and reducing some floor-to-ceiling heights and introducing new mezzanine office levels. The hotel element, however, has reduced floorspace.
Government heritage adviser Historic England objected to the proposals on the grounds of their impact on the Mall Conservation Area, when viewed from south of the River Thames. But only 11 letters of objection were received from local residents, significantly down on that for the earlier proposals.
Recommending the revised scheme for approval, Hammersmith & Fulham planning officers said they believed the harm to the Mall views would be less than substantial and outweighed by the benefits of the scheme.
"The proposed built form has a massing which responds to the proposed spaces and surrounding townscape at its edges," they said.
"The elevations have an architectural character which provides interest across the frontages."
The towers that the scheme will replace are 11 and 14 storeys respectively.
Minutes of a Hammersmith & Fulham design panel meeting held on the project in December reported that the scheme's height was not seen as a concern "due to the elegant proportions of the proposals".
But the panel expressed concerns that an approval for the building "might set a precedent for other sites with less competent schemes and a sensitive context where height could be a negative issue".