Gillian Darley follows in Ian Nairn's footsteps to Paris and uncovers a story for our time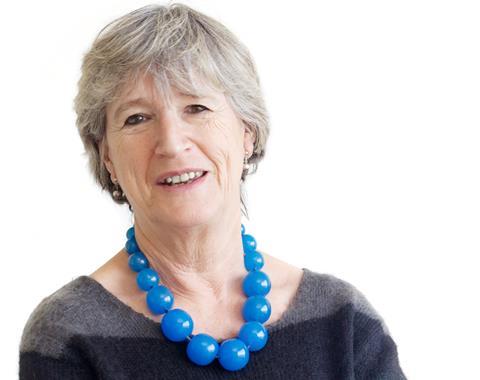 In the series of somewhat knee-jerk responses to climate catastrophe that are hailing down to fill the void left by lack of proper policy, it's been suggested that we should avoid demolishing buildings wherever possible.
So, can I suggest that every building aims to have nine lives, or at least a few? I've found one that has notched up three so far and, in its last iteration, stands as a triumph of clever structure, elegant design and, by default, sustainability.
Notre-Dame du Travail is a Parisian church of rare quality and it was a favourite of that dedicated francophile Ian Nairn. It was, he wrote in the mid 1960s, tucked round the "grey backside" of the Gare Montparnasse which was then particularly hellish as the demolition and construction for a major autoroute was underway. (Ironically another vile wave – this time of commercial development – is again bedevilling the station and its surroundings.)
Nairn's Paris is a spirited, if flawed, guide to the particular and the off-piste in the city and it is thanks to him that I recently wended my way there. He misdated the church, claiming it for 1894 rather than 1902, but extolled its fragile beauty and similarity to a train shed. He was even closer than he realised, for the architect Jules Astruc had been a pupil of Victor Laloux the architect of the then threatened Gare d'Orsay which at the time harboured "railway junk, parked cars and a few wee lines that peter off miserably to the banlieu from a lower level". As Nairn commanded his readers: "See it while you can." Fortunately, the urgency of his pleas would prove unnecessary for it would become the Musee d'Orsay, its glory the great station roof.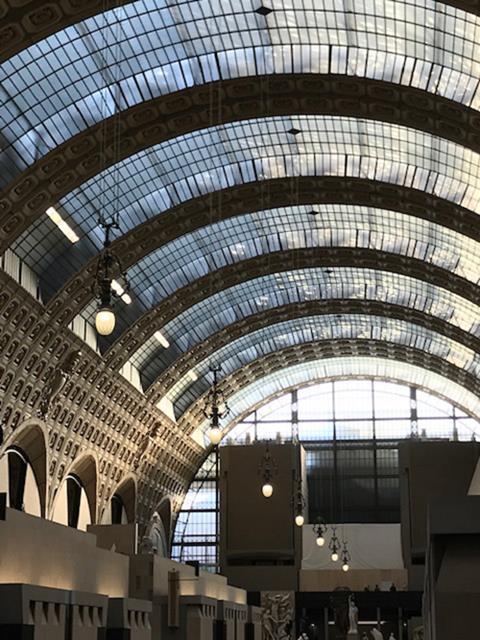 Nairn's Paris was reissued in 2017 with a thoughtful introduction by Andrew Hussey. He lives in the area served by Metro Pernety, the stop for Notre-Dame du Travail and the wonderfully named rue Vercingetorix (try that in French), and knows the city rather better than Nairn, a regular visitor rather than an inhabitant, ever did. But around that "gayest of all the iron churches in Paris" there is a story worth telling, which Nairn would have been the first to enjoy, had he known it.
The Paris Exposition Universelle of 1855 took place on the Champs Elysees, the first in a series of unashamedly gallic trade exhibitions in the capital. The immense Palais d'Industrie aimed to outdo Paxton's earlier Crystal Palace and when it was eventually demolished in 1897 the metal framework was dismantled and stored, possibly with an eye to partial reuse. The 1900 Exposition provided an ideal opportunity, with the need for smaller pavilions alongside the main exhibition halls, the Grand and Petit Palais (which survive).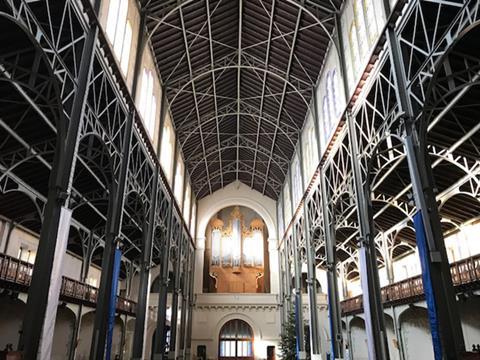 Not far away across the Seine a far-sighted and socially aware priest, abbe Soulange-Bodin, was raising money for a new church for the working-class parish of Plaisance. The task had proved daunting. But thanks to Astruc's inspiration, he dug himself out of trouble by using the most economic materials to hand: the unadorned and once-again dismantled iron framework from the 1900 expo.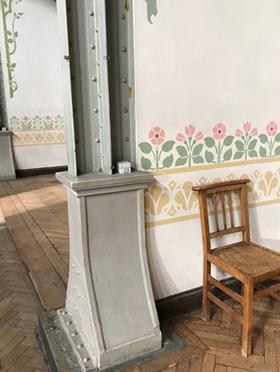 Refabricated locally the new church, with its masonry bookends giving nothing of its astonishing interior away, was dedicated to the workers themselves, in the earnest (if paternalistic) hope that their church might allow them to feel comfortable, their place of worship with its heavy rivets and honestly expressed robust structure having something of a factory about it. This was to be a marriage made, if not in heaven, then in Montparnasse.