The government finally seems to be taking notice of the profession's outcry about permitted development, says Julia Park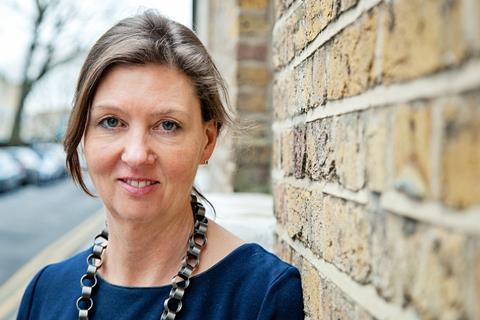 With Mipim, the Chartered Institute of Housing conference and Futurebuild all taking place in the middle of March, conference season is now over for another year. You need to be a certain kind of person to enjoy these events: good at small talk but ready for big talk – and able to cope with being internalised in a soulless, noisy environment for hours on end. It's a weird contrast to a normal day at the office, but I guess the change of routine, the escape from Brexit and the partying are all part of the attraction.
This year I just did the opening day of Futurebuild (formerly EcoBuild). The vastness of the ExCel in east London, with its bright lights, full air-con, poor acoustics and thousands of disposable coffee cups, always seems particularly inappropriate for an event focused on environmental sustainability. The experience itself is like speed-dating in an airport waiting lounge.
The midday session, The Construction Leadership Challenge: Delivering on the Ambitions of the £420m Sector Deal, was interesting in more ways than just the content. Reflecting on the line-up, the chair, Andy Mitchell (co-chair of the Construction Leadership Council and CEO of Thames Tideway), pointed out that the speakers were all of "a similar age", and not only knew each other, but also 80% of their audience.
The inference, that these events often see established experts preaching to the converted, was borne out by the absence of the major housebuilders. The people who build the majority of our housing, and stand to learn the most, don't seem to be interested.
This particular panel was fairly divided about whether the route to more sustainable housing was through regulation or innovation. Most speakers seemed to think both were needed and that innovation on the scale needed to stem climate change was likely to come from new (as-yet-unidentified) disruptors, rather than the big builders.
I heard a number of people reflect on the fact that they had been saying and hearing the same things for decades. Their point was not that it was boring, but that effecting change is a long, hard slog. Many still seem to regret the loss of the Code for Sustainable Homes, which was phased out as result of the 2012-2015 government-led housing standards review, which also abolished national funding standards.
I'm less persuaded. The code was far from perfect. It led to frantic chasing of easy credits to get projects over the line. And mostly the line was only level 3. I've never liked the idea of trading non-equivalents either: a green roof on a cycle store does nothing to compensate for an inaccessible home. We need something more than a "tidy-dry" to solve the still very real problem of how to dry laundry in a flat without resorting to a tumble drier, and extra credits for increased density never felt quite right. There's no doubt that the code led to undue complexity and another expensive expert (the accredited assessor) as well as a run on water butts.
But it did make us think differently and it was a step in the right direction in the sense that it recognised connections between personal health and wellbeing and environmental sustainability. It meant we worked harder at soundproofing, accessibility and daylight, and its demise has left a void in some areas which doesn't seem to have been filled by the Home Quality Mark.
The announcement that there will be a review of office-to-resi conversions, because of concerns about the standard of the housing it's produced to date, is also encouraging
Voluntary codes are tricky. Building for Life is the only one I can think of that has been adopted willingly by the housebuilders. It has some value but mainly as a convenient way to interrogate the general design and layout of suburban housing developments. Steering well clear of anything to do with building performance, it makes no mention of carbon reduction, daylight or space standards and, judging by the schemes that pass the test, poses little threat to business as usual.
The stands at Futurebuild were dismantled a week before the Chancellor announced plans for a new Future Homes Standard in the Spring Statement. Pledges to invest in a range of new energy efficiency targets that will see all new UK homes built without fossil fuel-powered heating from 2025 will have been welcomed by Futurebuild devotees, though I imagine most would prefer not to wait six years.
Immediate calls to avoid "extra bureaucracy and burdens" on new housing and focus on upgrading the energy efficiency of existing stock instead were inevitable. It may be a valid point in terms of overall impact but recent warnings from the Climate Change Committee mean it can't be an either/or. And let's not forget that today's new homes soon become tomorrow's existing stock. If we know what to do, and how to do it, we need to get on with it.
This unexpected announcement appears to signal a move away from deregulation but other messages are decidedly mixed. James Brokenshire confirmed that the government would be pressing ahead with a number of its proposals to extend permitted development rights. But while the extra retail-to-resi proposals and upward extensions have the green light, ministers are "still considering" whether to permit demolition under permitted development rights. Perhaps that's another way of saying "we got it wrong".
The announcement that there will be a review of office-to-resi conversions, because of concerns about the standard of the housing it's produced to date, is also encouraging. Let's hope there's an open call for evidence but even if there isn't, I'm sure the secretary of state will be grateful for contributions. I'm quietly optimistic that the message that people can't live well in tiny studios in industrial estates, and that they do need windows and outdoor space, is finally hitting home. The new Future Homes Standard many need to be broader and faster than the government currently envisages.
Postscript
Julia Park is head of housing research at Levitt Bernstein