Firms to deliver seven new buildings in heart of Oslo
The Norwegian government has selected Nordic – Office of Architecture and Haptic to deliver a tranche of new public-sector buildings in the nation's capital.
Haptic's co-founder Tomas Stokke described the project as a "game-changer" for his practice.
"We are humbled to be part of this very important project," he said. "The scale and complexity of the project is beyond compare in Norway."
The area is being redeveloped following a bombing, the first of two terror attacks committed by Anders Breivik in July 2011.
The two architects, which have offices in London and Oslo, were picked in the final stage of a competition that pitted them against a consortium including LPO Arkitekter, A-Lab, and Ratio Arkitekter.
Norway's Directorate of Public Construction and Property said the winning team's "Adapt" proposals were the clear winner, after being highest ranked by the project jury.
Nordic and Haptic's scheme delivers seven new buildings capable of accommodating 4,500 workspaces near to Johan Nygaardsvolds Place. Most will feature multi-functional green roofs and the scheme will also deliver new parks, squares, cafés and a visitor centre.
The winning consortium said judges had been particularly impressed by the scheme's "Building A", which has the aspect of a glass pyramid from some elevations, and which was formed to ensure sunlight reaches an adjacent park at the same time as reducing downdraft winds.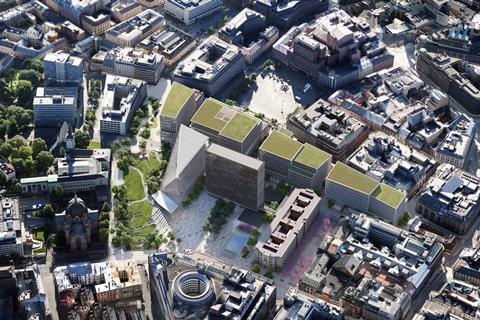 Nordic principal partner Gudmund Stokke, who led the successful project bid, said the scheme was "the largest and most significant project" the team members could contemplate.
"We are proud to be leading a strong, multi-disciplinary team for this momentous project," he said.
"It is a task of historical significance and one we undertake with humility and the greatest respect.
"We wanted to design a government headquarters that is an attractive place for visitors, that communicates Norwegian ideals of transparency and democracy and that is an inclusive and exemplary workplace."
In addition to Nordic and Haptic, the winning consortium – named "Team Urbis" – consists of COWI, Aas-Jacobsen, Ing Per Rasmussen, Rambøll, SLA, Bjørbekk & Lindheim and sub consultants Scenario, NIKU, DIFK and Norsam.