Practice appointed to design two stops on new line with Norway's A_Lab
Zaha Hadid Architects has been commissioned to design two of the six stations on Oslo's new Fornebubanen metro line.
It will work with Norwegian practice A_Lab on the stations for the 8km line – which will link the Fornebu peninsula site of Oslo's decomissioned airport to the west of the city centre.
ZHA and A_Lab will design the Fornbuporten and Fornebu Senter stations for the line, which will support the development of 6,000 new homes and civic, cultural and corporate developments expected to provide up to 25,000 new jobs.
Last year Haptic Architects unveiled its proposals for a 10,000sq m aquarium for the airport regeneration project.
ZHA said the new metro link would connect Fornebu Senter with Majorstuen in the city centre in approximately 12 minutes.
It said the design for the Fornebu Senter station had been inspired by Norway's mountainous landscapes and fjords that have been eroded over millennia.
"The Fornebu Senter station's design carves canyons and spaces for the flow of people," it said.
"Echoing this concept of re-imagined glacial landscapes, public plazas at street level transform fluidly into entrances at either end of the station, becoming meeting places for their new community with a distinct architectural identity."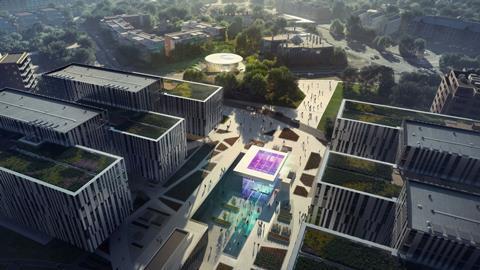 ZHA said Fornbuporten station would feature two distinct new civic spaces, one a "layered orthogonal pavilion and public piazza" and the other an oval canopy sitting within the natural landscape of a community park.
Construction of the Fornebubanen metro line is due to begin in 2020 for completion in 2025.