River promenade scheme tops off updated flood-protection scheme
Zaha Hadid Architects has completed a public-realm project in Hamburg that has created a new river promenade as part of an upgraded flood-protection system.
The Niederhafen scheme, on the Elbe River, delivers a 625m-long run of new public space, with a three-storey restaurant, shops and other public utilities built into the structure at street level facing the city.
ZHA said the scheme's wide staircases were designed to resemble "small amphitheatres" and had been carved within the flood protection barrier at points where streets from the adjacent neighbourhoods meet the structure.
The practice was appointed to the project after a 2006 survey of Niederhafen's then flood barrier found the structure was overburdened and that its foundations needed significant reinforcement.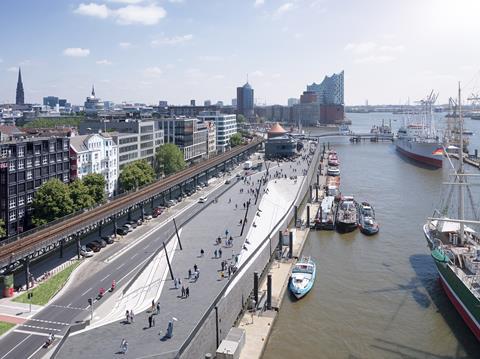 The area is no stranger to catastrophic flooding. The aftermath of a storm in February 1962 saw a deluge that claimed 315 lives and destroyed 60,000 homes.
Over the following six years a barrier was developed to protect Niederhafen against floods up to a height of 7.2m above sea level. The new barrier is 8.6m above sea level at the east and 8.9m above sea level at the west.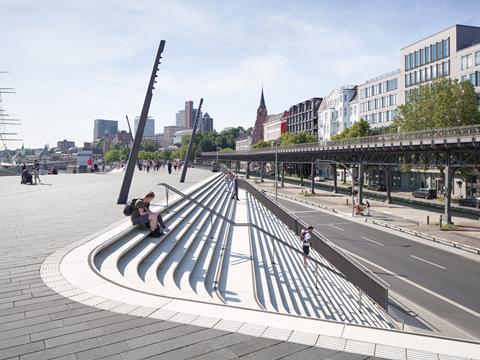 ZHA said modern hydrology and computer simulations had forecast the height increase was necessary to protect Hamburg from future winter storm surges and extreme high tides.
City-wide, Hamburg's flood protection system includes 78km of dykes, six storm-surge barriers and a range of pumping stations and tidal gates.