Folkestone Harbour homes are latest stage of resort's regeneration
Construction has started on a residential building beside Folkestone Harbour designed by Acme.
The project, a mix of townhouses and flats at the bottom of a cliff, is the first residential building in the "Seafront" masterplan.
The project includes 20 townhouses with curved bay windows and balconies to take advantage of the seafront location, two taller buildings with 64 apartments and duplexes, plus a communal garden.
The client is Folkestone Harbour & Seafront Company which, over the last 10 years, under the leadership of Roger De Haan, has regenerated the harbour, which was a popular destination in Victorian times but declined in the 20th century with the rise of package tours abroad.
As part of the work, which involved improving the public realm, Acme completed a beach boardwalk in 2017, the refurbishment of the Harbour Station and Customs House and the Folkestone Highline walk over the old Harbour Viaduct.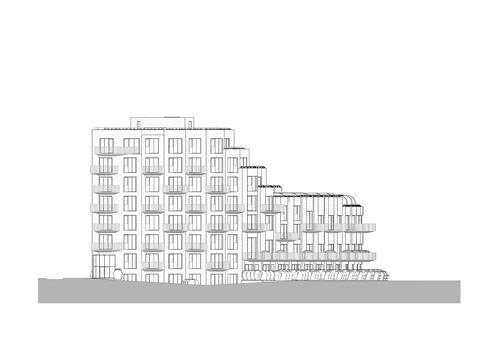 The amended masterplan won planning in 2018, with the first phase of the latest development receiving detailed consent in 2019.
Acme director Friedrich Ludewig said: "The masterplan seeks to define buildings that are firmly rooted in the architectural history of Folkestone, celebrate the amazing views and create an active and open shingle beach for all. The new houses will contribute to the creation of a vibrant place for residents and visitors to enjoy, reconnecting the seafront to the town, and putting the harbour back at the heart of Folkestone."