Stirling Prize winner's latest bridge connects OMA's architecture centre
Wilkinson Eyre has completed a £9m curved pedestrian and cycle bridge in the centre of Copenhagen.
The 160m-long bridge crosses the Danish capital's inner harbour to open up a district that has been deserted for decades, according to the architect, which won the Stirling Prize in 2002 for the Gateshead Millennium Bridge.
The Lille Langebro Bridge, designed with Buro Happold, is formed from five sections, two of which can swing open to allow boats through. The opening mechanisms are concealed in the piers, allowing the line of the bridge to run uninterrupted at other times.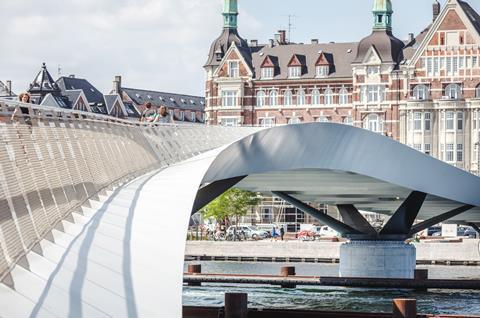 The bridge is 7m wide, including two 2m-wide cycle paths.
Simon Roberts, associate director at Wilkinson Eyre, said the edges of the bridge dipped below the deck at the abutments and soared above the deck at mid-span, like wings.
The primary steelwork is painted off-white, drawing attention to its curved form and the changing play of light and shadow on the water, he said. In contrast, the pier arms and support structure are painted in a dark grey to minimise the visual impact on the river.
Other materials have been selected for their suitability for the harsh environment. The parapet is fabricated from brushed stainless steel, with a lightweight stainless-steel mesh infill.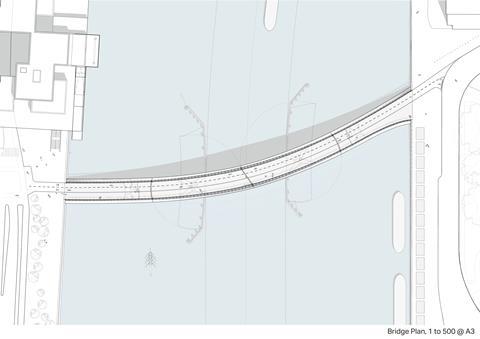 The bridge, commissioned by Danish client Realdania By & Byg, will connect an underused part of the waterfront which is home to OMA's new Blox building which is home to the Danish Architecture Centre and a café.
Simon Fryer, technical director, bridges, at Buro Happold, said: "This is a landmark project both for Copenhagen and for the wider bridges sector. By combining cutting-edge design with unique technical solutions it has been possible to minimise the structural depth of the bridge and really push the boundaries of design, affording pedestrians and cyclists views across the harbour.
"The opening and closing of the bridge acts as a spectacle in itself, bringing a sense of theatre and excitement to the area."