North American architects will have better access to EU, warns RIBA chief executive
Canadian architects will have better access to EU markets than their British counterparts after Brexit, RIBA's chief executive has warned.
Alan Vallance said British architects would be potentially the "most disadvantaged".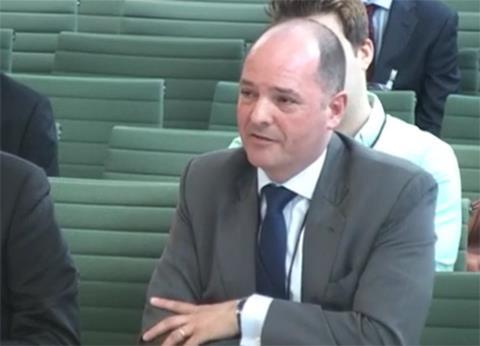 He was addressing MPs on the Exiting the EU Select Committee along with other business leaders last week.
Uncertainty was the biggest problem and was already causing projects to be put on hold, he said. But he also talked of the damage tariffs could do and warned that mutual recognition of qualifications remained a key issue.
"UK architecture is a global powerhouse. It exports £500m of services a year, albeit about 23% of that goes to the EU," he said.
Vallance welcomed the UK government's decision in January to protect EU architects' ability to work in the UK, but warned things were not so clear in the other direction. He said it was not certain that EU guidance to its member states on recognising UK qualifications carried any legal weight.
"If we don't have those arrangements in place with other jurisdictions, we can't start to plan to replace [the £73m of work predicted to be lost to Brexit] now.
"Those recognitions could exist relatively easily," he added, in a dig at the regulator. "It relies on Arb, under the guidance of MHCLG, to make those steps happen. We would very much welcome getting on and putting those plans in place because that would be a major building block to start to build trade [post-Brexit]."
Holding up a four-page mutual recognition agreement between America and Canada, he said out of the UK, US, Canada, Australia and New Zealand, the latter four have a mutual recognition agreement in place.
Vallance said: "Post-departure, depending on the terms, UK architects would be the most disadvantaged of the five because they may not be able to practise in any of the other four jurisdictions but each of the four can."
Referring to Canada's CETA trade agreement with the EU, he added: "One possibility down the track is that Canadian architects can practise in the EU and UK architects may or may not [be able to]. That's the sort of practical issue we need to work through and resolve very quickly if we can."
Another immediate issue was uncertainty over tariffs because that was impacting on architects' ability to price jobs, he said.
"The UK is a net importer of construction materials from the EU so architects need certainty on tariffs which may or may not be charged," he said.
"Right now we have members planning works which will happen after October that need to factor those into their cost and pricing issues. They operate on sometimes very difficult margins. Pricing those projects is key and when you have a large amount of variation in your pricing decisions as you are putting bids in, one of the issues you face is, 'Will I make a profit on this job or not?'."
Other questions for practices include whether they need to set up a local office or become licensed in a country where they have a project.
Small practices were disproportionately affected because they had limited resources compared to the big firms, and often less experience of working globally.
Committee chairman Hilary Benn asked the business leaders on the panel whether they felt government had understood their concerns.
Vallance said the RIBA had had more than 100 meetings in the last three years with different departments.
"There's a very solid understanding across all the departments and indeed ministers and secretaries of state we've spoken to," he replied. "But it does feel we have to keep going round to renew that information because of the turnover of individuals in departments – and of ministers."
Tory MP Jeremy Lefroy asked the panel whether government had established systems to give businesses rapid access to short-term loans in the event of a no-deal Brexit, as happened after the 2008 crash. The panellists said nothing had been confirmed because of the uncertainty of how Brexit will be delivered.
Lefroy urged them to push government to address this, saying: "Cash flow is the thing that will bring businesses down most quickly if people either lose business, lose ability to collect payments or there's disruption in contracts… I understood there was something more advanced [in place but] if you, as representatives of very large sections of the economy, aren't aware of it that worries me greatly."
Vallance repeated the RIBA's dictum that a no-deal Brexit would be the "worst possible option".
But he added: "My experience of working with architects is they are creative individuals and will find ways through and will make their businesses successful but that's not helped by not being clear about the terms of departure, leading to uncertainty. The technicality of the terms of departure are really key."