Russian shopping, leisure and hotel complex inspired by city's Bolshoi past
Anglo-Russian practice Twelve Architects has won planning permission for a £120m mixed-use development in the Russian city of Perm, around 700 miles north-east of Moscow.
The 152,000sq m development features a shopping mall, an art gallery, a conference centre and a 175-bed hotel.
Twelve said the scheme, created for client Prospect Perm, sought to create a "distinctive identity" and had taken its inspiration from the city's culture of performing arts and civic sculptures to create a façade resembling the folds of ballerinas' skirts.
The practice said the move reflected the fact that the Bolshoi Ballet had once been based in the city and would create a piece of modern architecture that complemented the historic buildings of the district.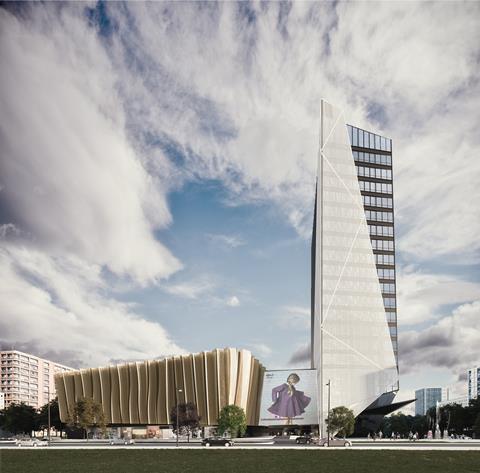 It said the façade would be clad in a high-performance flexible composite membrane that would be stretched over a series of modular subframes to form the outer "ballet" layer.
The subframes will be fixed back to the external sandwich panel wall which forms the thermal and waterproof line, which is supported by inclined columns and concrete slab edges.
Twelve founding director Matt Cartwright said retail development in Russia predominantly featured simple black boxes with single entrances that provided visitors with only a "functional" experience.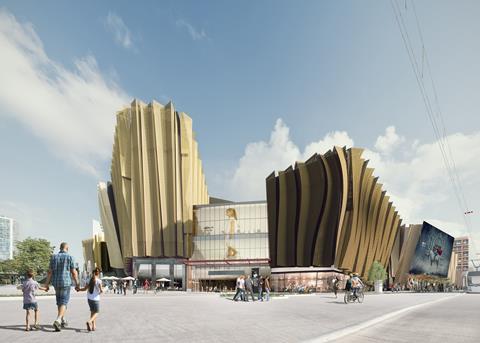 "It's exciting to be introducing new concepts to a city, giving residents something that they have never had before. We're confident that our development will be a fantastic addition to Perm," he said.
The project is the landmark development within the overall regeneration of Perm's Kama River Promenade and central Esplanade park.
Construction of this phase will start later this year, and is scheduled to complete towards the end of 2021.
It is Twelve's second major retail project in Russia following the 120,000sq m VEER development in the city of Ekaterinburg.