Watkin Jones and Lacuna Developments to build scheme as part of 5,000-home regeneration project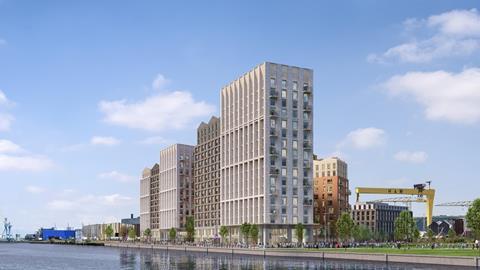 Belfast City Council has granted permission for a 778-home development as part of the 5,000-home Titanic Quarter regeneration project.
The plans, by build-to-rent and student housing specialist Watkin Jones and Lacuna Developments, were approved at a meeting last Thursday.
The Loft Lines scheme, designed by Todd Architects, will consist of three buildings ranging from 11 to 17 storeys in height. Two of the blocks will contain build-to-rent accommodation and the third will be for social housing. The homes will be a mixture of one, two and three bedroom and studio apartments.
The development is expected to be completed in August 2025, with work starting this summer. It also includes flexible commercial and community floorspace, a new public square and promenade and landscaping.
Alex Pease, chief investment officer of Watkin Jones, said: "This is an excellent outcome for Belfast, creating new homes, open spaces, and businesses that will accelerate its development as a thriving 24-hour city to rival the best in the world.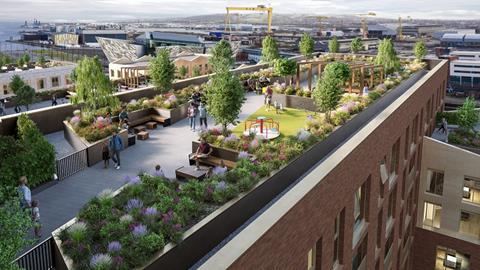 "Transforming this brownfield site into thriving place will act as a catalyst for wider regeneration, and we're very pleased to continue investing to support the people of Belfast's ambitions. Our focus is on creating truly sustainable places that add value for the wider community for decades, so we've bought our skills as a developer of affordable housing to increase the number of affordable homes, supporting the Loft Lines future as a balanced community.
The scheme is part of Belfast's 185-acre Titanic Quarter regeneration project which is expected to deliver 5,000 homes as well as commercial, tourism, education and retail schemes.