Public realm improvements at Bank designed to cater for increased station capacity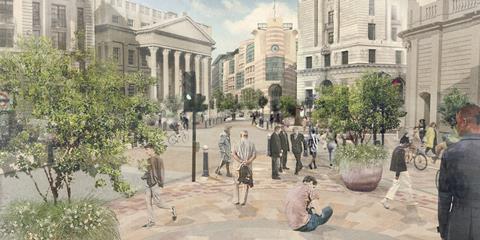 Proposals drawn up by Studio Weave and landscape design practice Tom Stuart-Smith to improve a key junction in the City of London have been put out for consultation.
The scheme, at Bank, involves permanently closing several roads to traffic, widening pavements and introducing planting and seats.
The junction, in the heart of the Square Mile, is surrounded by landmarks including the Bank of England, Mansion House, the Royal Exchange and James Stirling's No1 Poultry.
The City of London Corporation had already banned some traffic during certain hours from what was once a congestion hot-spot.
It now plans to expand the provisional scheme in time for the completion of improvements to Bank Tube station next year, to cater for the increased passenger capacity.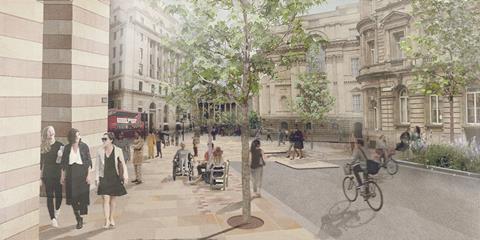 Transport for London (TfL) has been upgrading and expanding Bank and Monument stations since April 2016, with works scheduled to be complete by late 2022.
Chair of the planning and transportation committee, Alastair Moss, said the corporation considered "dozens" of potential options, with the proposal put out for consultation deemed to offer the best balance between benefits and practicality.
"By making subtle changes to just a few of the arms of the junction, we will ensure the streets are even safer for pedestrians and cyclists, as well as being able to provide welcome improvements to the public realm in this busy part of the City," he said.
The proposals, called All Change at Bank, include closing Threadneedle Street to traffic between Bank junction and Bartholomew Lane in both directions to create a walking- and cycling-only area.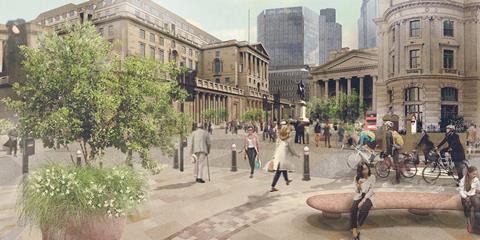 They would also see the closure of Queen Victoria Street between Bucklersbury and Bank junction, except for vehicles turning left out of Walbrook. Princes Street would remain partly open for buses and cycles.
Public realm enhancements around the junction would include wider pavements, greening and seating as well as safety measures for pedestrians and cyclists, said Moss.