London practice's multi-generational home with sea views in South Korea
Hackney-based Studio Weave has completed a three-bedroom multi-generational family home positioned on a clifftop in South Korea that faces the Eastern Sea.
The 200sq m project marries the practice's London sensibilities with Korean tradition. It features three terraces and is created from three rectangular forms that form a C-shaped floorplan and surround a courtyard garden.
Clad in pink-tinted concrete tiles, Seosaeng House appears to glow in the sunrise. "Seosang" can be translated as "the brightening east".
At the top of modern concrete stairs, immediately outside the home's entrance a traditional long stone determines space for shoes to be left, while a designated steel hanging bar allows the tradition of food preservation to continue.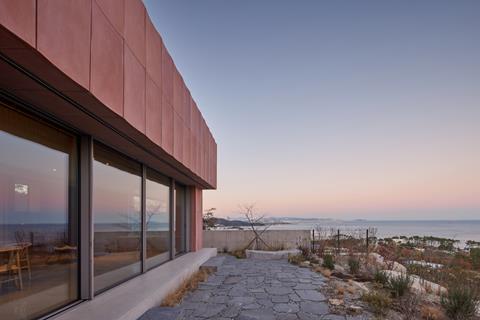 Seosaeng House welcomes guests in the open-plan kitchen and main living room. A secondary living room is reserved for intimate family time, and the private sitting area on the upper level has views through the house down to the nearby harbour.
Studio Weave founding director Je Ahn said the home's orientation, materials and colour palette took their cues from the site's immediate surroundings.
"We were inspired by Korean colours and textures and looked to create a home that demonstrates how traditional domestic architecture could be reimagined through a contemporary sensibility," he said.
"Favouring warm and subtle materials, Seoseang House is of its place and climate, where every window is a moment to view the tranquil surroundings."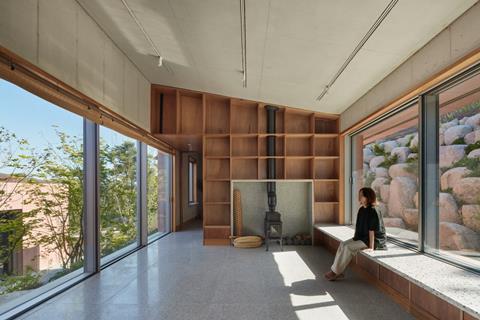 Project Data
Lead architect: Studio Weave
Executive architect: Architects Office DOMA (Ulsan, Republic of Korea)
Start on site: April 2020
Completion date: September 2022
Location: Republic of Korea
Project size: 199.75sq m
Site aize 815sqm
Clients: Private
Structure: Eun Structure
Civil: Jung-In Civil Structure
M&E: Kum-Gang DNS
Horticulture: Garden & Forest
Contractor: Koreasoltech