Architect seeks consent to complete terracotta façade after 100 years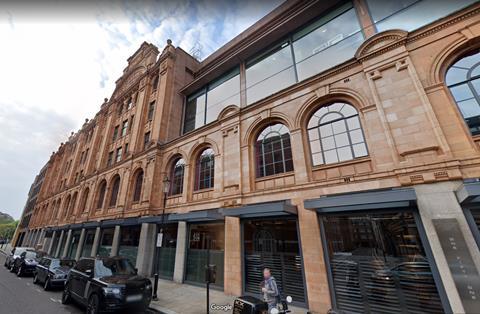 Squire & Partners has replaced David Chipperfield Architects on a project that would see the never-completed terracotta façade of a former Harrods garage built out after more than a century.
The building, half a mile from the famous Knightsbridge department store, was designed by the same architect, CW Stephens, in 1911, to be a garage and workshop for Harrods.
But the First World War and land ownership difficulties curtailed the project and the extravagant neo-classical terracotta façade, which should have wrapped the whole block, was never completed.
The building, on Sloane Avenue in Chelsea, was converted into offices in 1967.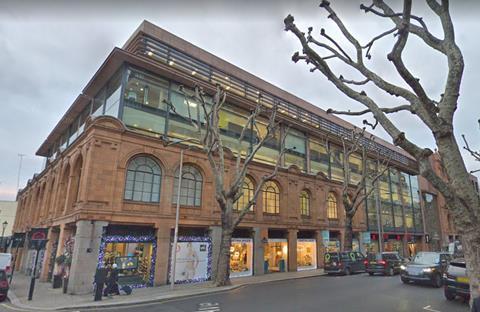 In the 1990s the interiors were demolished and a Stanton Williams-designed glass and metal office building inserted behind the original elevations, with retail on the ground floor. A further storey was added in 2008. That building is now set to be bulldozed because its inflexible floorplates are said to have led to underoccupancy.
Chipperfield won consent in 2016 for a residential scheme, two extra storeys and a replica terracotta facade to complete the gap.
The practice has since been replaced by Squire & Partners which has applied to vary the approved scheme by replacing the proposed 49 flats with offices. The revisions would also replace Chipperfield's proposed rectangular windows in the top terracotta level with arched windows to match the original building.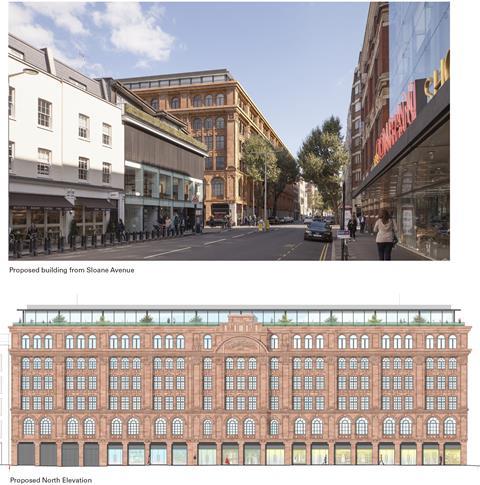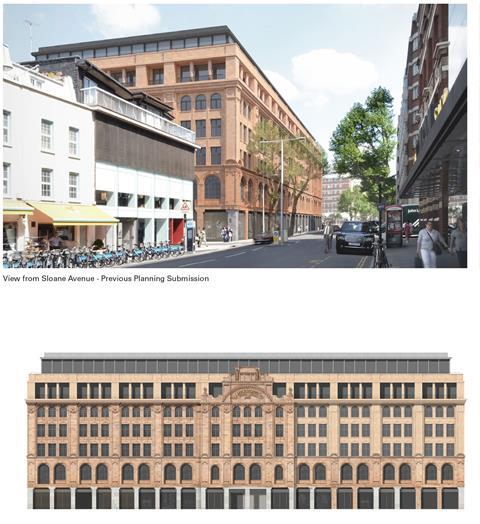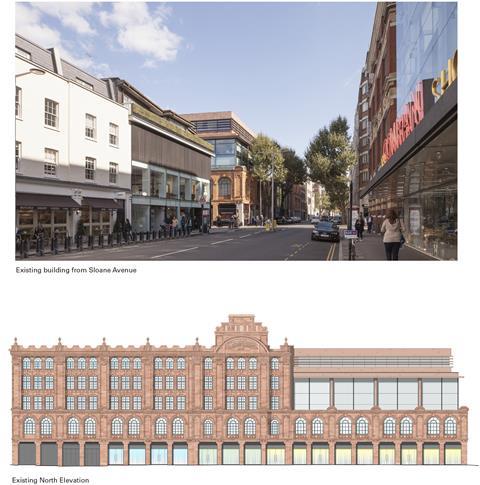 Squires' design and access statement says: "The main gesture of this design is the completion of the historic volume and facade of 60 Sloane Avenue, which follows the line of buildings of the same scale and architectural reference as the 1911 Harrods Motor Car Garage and Workshops.
"The goal therefore was to develop a proposal which has an architectural integrity, furthermore imagining that the 1911 brief given to architect had called for a further two floors."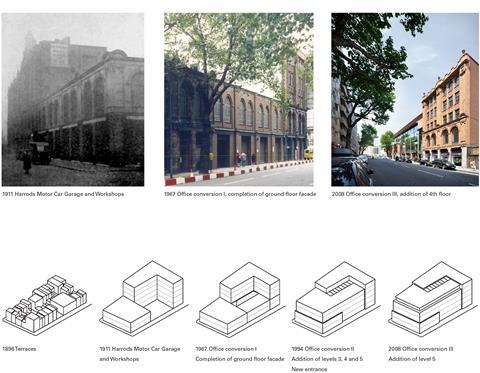 While keeping the same building envelope as Chipperfield's consented scheme, the more decorative finish to the top terracotta storey would be "more sympathetic" to the existing façade, said the architect.