Project has been awarded £54m for enabling works with more funding to be announced in 2021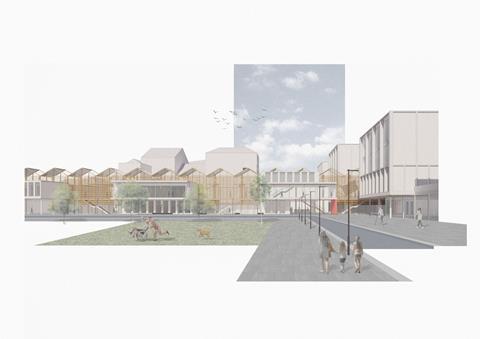 Sheppard Robson has been appointed as lead architect for a major redevelopment of a north Manchester hospital.
Led by Manchester University NHS Foundation Trust and Manchester council, the scheme will transform the North Manchester General Hospital estate to provide new hospital, education and administrative buildings, as well as new homes.
The scheme is one of 26 hospital projects being funded through the government's second health infrastructure plan (HIP2).
It has already received £54m in funding to allow enabling works and construction of temporary staff accommodation to begin this autumn.
The final funding for the redevelopment is set to be agreed in early 2021.
Sheppard Robson, which has been working on the masterplan for the development for nearly a year, said the aim for the scheme was to create a new hospital neighbourhood that is fully integrated with the local community.
The existing estate, 70% of which is in "desperate need of rebuilding" according to the project team, is set to be a collection of buildings arranged around a central "village green" which it is hoped will act as a focal point for the local community.
Alex Solk, Sheppard Robson partner and healthcare lead, said: "We are radically rethinking the estate, and the services and facilities provided, while also reshaping the relationship the hospital has with its community – a process that will have a far-reaching and lasting impact."
Landscape architect Gillespies, transport consultant Curtins and planning consultant Turley are on the project team.
Sheppard Robson has been appointed as lead consultant and architect on the scheme's non-specialist hospital buildings, administration buildings and an education centre.
The number of homes to be included in the scheme is yet to be decided.
The full project, including the housing, is expected to take between 10 and 15 years to deliver.
Other hospital schemes in northern England which are part of HIP2 include a planned replacement of Royal Preston and Lancaster Royal Infirmary and a new hospital in Durham to replace Shotley Bridge hospital.