West London project will open up more of towpath with a cafe and walkway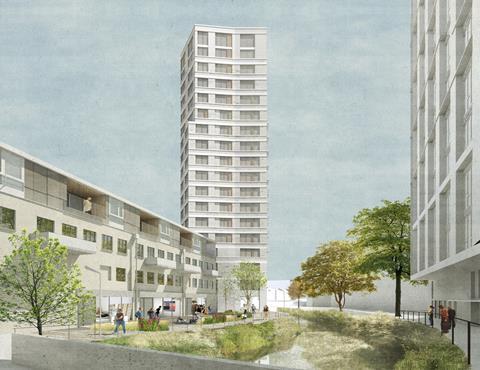 Sergison Bates has received final sign-off for a 68m block of skinny flats designed for Baylight Properties in central Wandsworth.
The 20-storey pencil tower will join Metropolitan Workshop's similarly slender green-glazed Mapleton Crescent tower, which was designed for Pocket Living and completed in 2018, beside the River Wandle.
Wandsworth town centre is undergoing significant regeneration after Young's left its historic grade II* Ram brewery complex in 2006 after nearly 500 years. That site was masterplanned as a mixed-use district by EPR and is now branded the Ram Quarter. Other developments are taking place upstream along the Wandle and around the town centre's traffic-dominated one-way system.
The Wandle Valley was a centre of textile printing for about four centuries, with the chalk stream powering William Morris' Merton Abbey mills and Liberty's silk printing works among many others.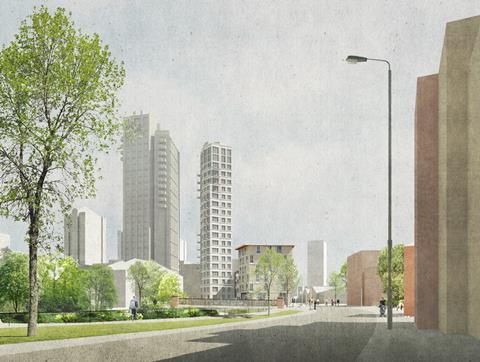 Sergison Bates' pencil tower will be built on a vacant plot currently used for parking, adjacent to the practice's 2004 conversion of a former paint factory which it also designed for Baylight.
The 2,000sq m proposal will contain 27 flats and a cafe and extend the 20km Wandle Trail towpath with a 90m-long public realm walkway.
The café will be accessed from the main entrance courtyard off Garratt Lane, marked with catenary lighting overhead, or directly from the river walk, and will offer outdoor seating in the shade of a new tree.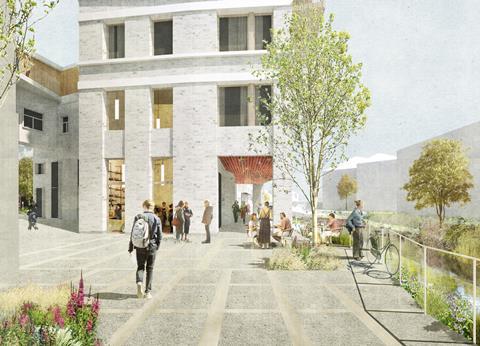 The architect said: "Carved facades and a slender vertical order give the building an elegant sculptural form. In keeping with the existing refurbished workshops buildings, the tumbled white brick and concrete tower have metal windows that reinforce the building's industrial character."
The practice said: "The idea of a 'pencil tower' emerged in response the uniqueness of the site, to minimise the footprint and mass of the building so that it would have considerably less impact on the skyline than conventional neighbouring tower developments.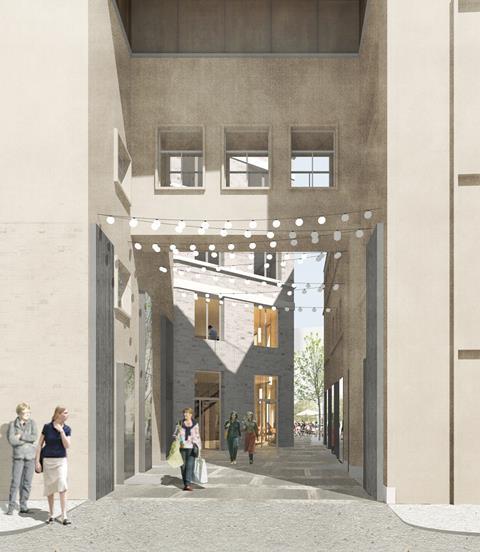 "The small 100sq m floor plate distinguishes it from other local tower blocks in terms of bulk and mass – its immediate neighbour, the 27-storey Pocket Tower on Mapleton Crescent, the 23-storey Argento Tower on Mapleton Road facing south-west towards King George's Park, the three 21-storey towers to the west, the proposed 24-storey Sudbury Tower to the north, the 36-storey high building on the Ram Brewery site, and the proposed 26-storey building at Wandsworth College."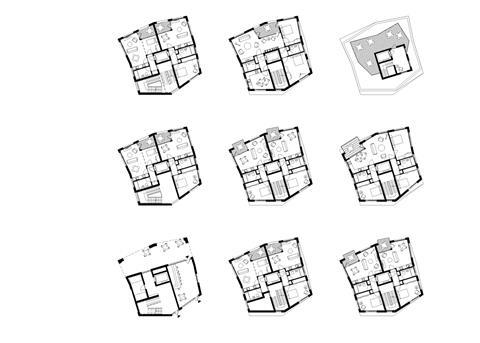 The plan can accommodate several different apartment types. In principle, the floor plate can either be divided into two flats or occupied by a single large one, allowing for a diverse mix of studios and larger apartments suitable for households of four to six people, with two duplexes on the top floors.
The scheme, which will include 37% "affordable" flats, won planning in May but the section 106 agreement has only just been signed off.
Practice director Stephen Bates said: "The integration of this slender, gritty and robust sentinel into the existing assembly of re-purposed industrial buildings will generate new energy around this inner-city brownfield site. This project is about adding to the city in a sustainable way."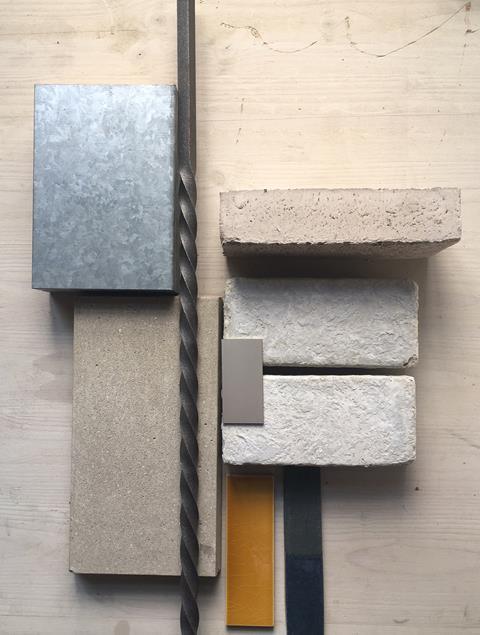 Crispin Kelly, founder of Baylight Properties, said: "What makes a good tower? Tall. Thin. Subtle shifts in plan. Moments of enrichment.
"Designed with meticulous attention and an acute consciousness of its impact: these have been Sergison Bates's continuing preoccupations on this project."
Jonathan Cook is landscape architect.