Critics say trailed spending review pledge is not enough
The government is set to announce £1.8bn in funding to turn brownfield sites in England into housing in Wednesday's spending review.
The Treasury said 160,000 "greener" homes could be built on the land, which it said was collectively the size of 2,000 football pitches.
The homes have been billed as part of the government's agenda to reach net zero emissions by 2050.
But Nigel Wilson, chief executive of Legal and General which is a major player in the build-to-rent market, told the BBC's Today programme more of the homes needed to be "affordable" because poorer people in smaller cities were being left behind.
"You shouldn't have to be rich to be green," he said. "It's very difficult for poorer people to get on the green [housing] ladder.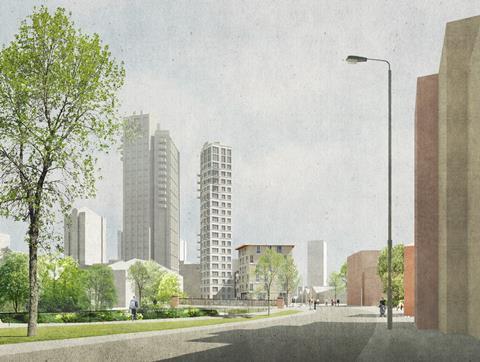 "There's a lot of active listening going on [by government], but we don't just want CGI housing - we want real housing built across the UK."
It comes as the NHBC announced housebuilding volumes fell in the three months to September, in what appears to be the first concrete sign of the impact of labour and materials shortages on housing numbers.
The third quarter data fshows that UK new home registrations – which commonly occur when builders start work on site – fell by 27% quarter on quarter to 33,779, while completions dropped by 8% to 31,908.
Meanwhile chancellor Rishi Sunak is also expected to announce £65m to digitise the town planning system, with the first phase of the upgrade being rolled out to up to 175 local authorities in England.
Sunak has also promised £9m to build 'pocket parks' in urban areas across the UK.
The parks, which would be around the size of a tennis court, aim to improve access to green spaces in cities.
At least 2.5 million people across the UK currently live more than a 10-minute walk from their closest green space.