Covid pay cuts a 'thing of the past' as market turns
Architects' salaries have risen by an average of 5-10% in the last 12 months, according to new figures.
Technicians with specialist software skills have seen their pay packets grow even more as competition for staff begins to heat up.
The picture has changed significantly in a year. The previous survey found 49% of people in the architecture and interior design sector had taken a pay cut during the first year of the pandemic, often with no reduction in hours. Salary offers for job seekers were also down 20%.
But in the last year those pay cuts have been reinstated and the employers' market has become a candidates' market, said Martin Bennell, managing director of specialist recruitment consultant Frame, which carried out the research.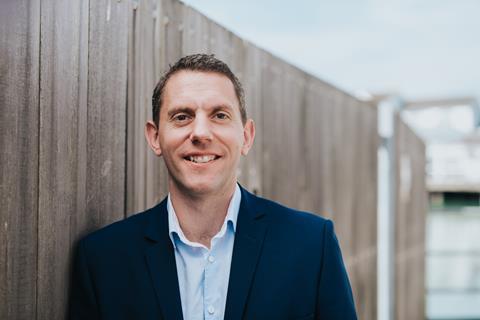 "This has also impacted salaries, and some hiring managers have made decisions to offer at the higher end of salary scales to ensure they can attract the best talent in the market," he said.
Pay for London-based project architects with more than 10 years' experience is up 12%, while those with six to nine years' experience has risen 7-10%.
In 2020, an architect based outside London with less then 10 years' experience was earning an average of £38,940. By the end of last year this had risen to £41,834.
Architectural technicians working in the capital with six to nine years' experience have seen salary increases of 18%, thanks to the premium paid for skills like Revit.
Entry-level and the least experienced interior designers with up to two years' experience have done even better, with increases of between 15 and 21%.
"Our findings this year mark the recovery and optimism in the market with salaries increasing across the board," said Bennell.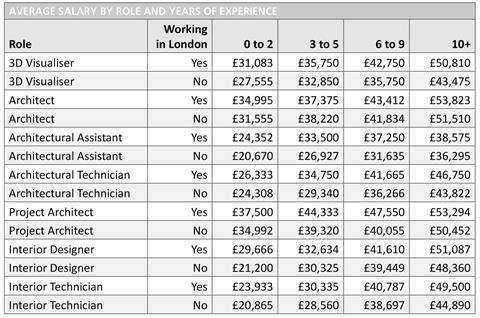 However 73% of respondents said they were not paid for overtime. Those most likely to be working overtime had more than 10 years of experience.
"Unpaid overtime is expected and has been for the past 30 years of my working life – under-pricing projects and getting resource plans wrong are a daily failing of the industry I'm afraid," said one respondent.
Employers have been adding benefits in the last two years in an effort to retain staff, the survey found. The percentage of employees being offered flexi-time has increased from 20% to 35% since 2020, while working from home has risen from 21% to 59%. Better pensions and parental leave as well as medical insurance and laptops have also been popular enhancements.
Hybrid working has, not surprisingly, become the most common style of employment. In London 61% of people are dividing their time between home and office, compared to 40% outside the capital.
The research also found that job security has increased dramatically. It was a concern for 63% of people in the previous survey – mostly because of the impact they feared the pandemic would have on business – while just 38% said it was a worry this time. Covid remains the main concern, followed by lack of feedback and progression plans – but in the last few months Brexit has begun causing more jitters.
Bennell said: "For the architecture and design industry, the concerns raised regarding Brexit in the early days seem to be coming to fruition. It has been over 12 months since the UK left the EU and it's hard to pinpoint any specific positives for the sector."
Meanwhile, half of the respondents said they are planning to find a new job in the next year. This is down significantly from 64% in 2021 but is still at its second-highest level since before 2015. The least experienced are the most eager to move on, the reverse of the picture in 2021.
Most are looking for a pay rise but a better work-life balance remains a strong motivation too.
Bennell said it could be "quite alarming" for practice leaders to contemplate having to replace 50% of their staff.
"Several factors could be coming into play here," he said. "The market is busier, and the number of permanent employment opportunities has risen exponentially. I won't ignore that some employees could still be harbouring bad feelings about how they were treated at different points through the covid-19 pandemic. Some will be looking for career progression and pay rises. Others may not feel they fit the culture of the practice they are currently working for."
The survey was carried out in November and December and is published later today.