Practice poised to lodge 565-home Bethnal Green scheme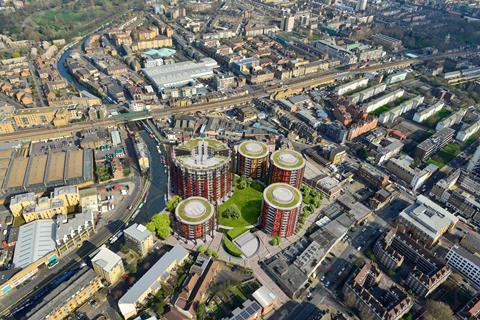 RSHP has followed in the footsteps of Wilkinson Eyre and Grid Architects with plans for the residential redevelopment of Victorian gasholders in the capital.
The practice's scheme for the Bethnal Green gasholders was drawn up for development partners the National Grid and Berkeley Homes. It would deliver 565 apartments and up to 4,000sq m of space for other uses.
Under plans presented to Tower Hamlets councillors last week, the Marian Place redevelopment, behind a street called The Oval, would see the site's two remaining cast-iron gasholder frames dismantled and refurbished to literally frame two of five new cylindrical apartment blocks earmarked for 1.82ha site.
The taller of the two gasholder complexes would be a split mass development, while the shorter one would be solid. The tallest of the new structures would be 13 storeys, according to a report submitted alongside the presentation.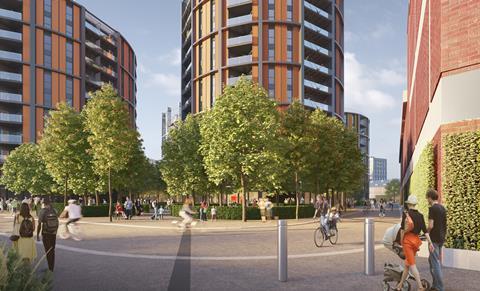 The plot, between Broadway Market and Cambridge Heath Road, is just three miles east of Wilkinson Eyre and Jonathan Tuckey's King's Cross scheme, although unlike that redevelopment the Bethnal Green gasholders are not listed: they have a Certificate of Immunity that runs until December next year.
The presentation to members of Tower Hamlets' strategic development committee noted that although the site is allocated for redevelopment in the borough's current local plan, a high-quality scheme that enhanced the setting of heritage assets was still required.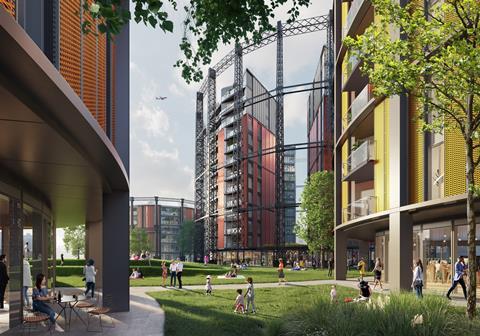 "An essential design principle, as set out within the site allocation, is to retain, re-use and enhance existing heritage assets, including gasholders No 2 and No 5," it said.
"The developer is proposing to retain both gasholder frames and construct radial buildings within them whilst proposing three new buildings to the south of the site.
"The layout shows an expansive publicly accessible open space at the centre of the site with further public realm along the canal at the edges of the site."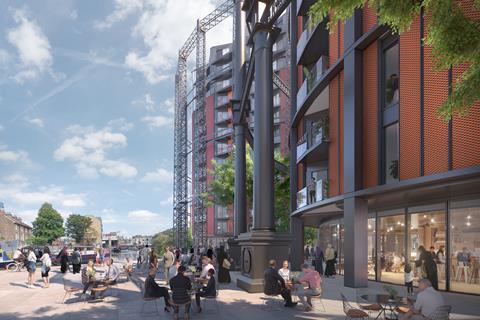 According to an environmental impact assessment scoping report lodged with Tower Hamlets earlier this year, Bethnal Green Gas Holder Station was established in the 1860s and decommissioned in 2012.
The development team for the scheme said 35% of the new homes delivered as part of the scheme would be "affordable" and suggested proposals would be formally lodged before the end of this year.