Greater London Authority could take back control of 15ha project in weeks as partner faces financial woes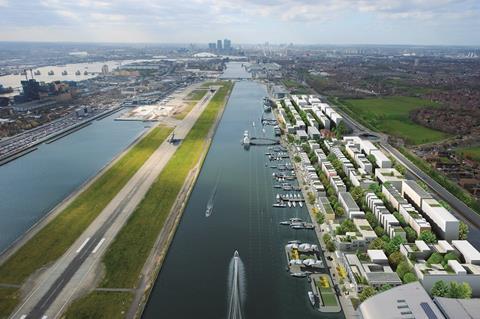 The Chinese developer selected to deliver the transformation of part of the Royal Albert Dock in east London could be stripped of its role in weeks because of a lack of progress with the £1bn scheme, masterplanned by Farrells.
In 2013, then Mayor of London Boris Johnson agreed the selection of ABP (London) Investment to regenerate a 15ha swathe of dockside. At the time the deal was supposed to deliver 2.5 million sq ft of office space, as well as leisure, retail and serviced apartments – creating a "vibrant 24/7 location" by 2021-2022. The project was touted as "London's third business district".
In an interview with Building Design's sister title Building in 2017, ABP chairman Xu Weiping said he expected to hire architects for the detailed design of phase 2 later that year, with a view to being on site with that phase in the second half of 2018.
So far, only the scheme's 21-unit first phase is complete, with the exception of two listed buildings earmarked for restoration. The Greater London Authority said that since April 2019, no significant activity, lettings or investment had been undertaken by ABP and only a "very small part" of phase one's available floor space was currently occupied.
Last year the GLA served notice on ABP requiring its guarantor Dauphin Holdings Group to assume the developer's responsibilities for bringing the project forward.
Documents filed with Companies House in December show ABP (London) Investment made a loss of £13.2m in 2020, more than 10 times the figure for 2019, and had financial liabilities of £14.5m.

The accounts said the firm was dependent on Dauphin Holdings and its subsidiaries for financial support and that Dauphin's plans indicated that it needed to raise further funds. However the accompanying directors' report said they were confident the funds would be raised.
It comes as China's once booming property market is under severe strain, with a government crackdown on developers and two of the biggest names defaulting on loans.
At the weekend, the Sunday Times reported that Dauphin had been given until next month to clarify whether it could complete the Royal Albert Dock scheme.
A GLA spokesperson confirmed that City Hall had lost patience with the developer of the scheme.
"The GLA has been concerned for some time by the lack of progress by the developer at Royal Albert Dock and served ABP with a final termination notice in August after the developer proved unable to meet all of its obligations under the agreement in place for delivery of this scheme," they said
"ABP's guarantor Dauphin Holdings Group has now formally stepped into the project and assumed ABP's responsibilities. As part of this process, Dauphin Holdings Group must comply with all of ABP's outstanding obligations and bring forward the development of this key site."
The Royal Albert Dock proposals were touted as creating 20,000 jobs directly. City Hall said the scheme had the broader potential to deliver 35,000 jobs and 4,000 new homes by 2037-2038.