Multiplex puts brakes on twin towers amid payment row with R&F Properties
KPF's £1bn One Nine Elms project appears to have fallen foul of the crisis sweeping China's property market.
Delays to the twin towers project are inevitable as Multiplex is understood to be significantly reducing its 1,000-strong workforce on the job on the south bank of the Thames while it chases a late payment from client R&F Properties. It is not known how much money is involved.
Guangzhou-based R&F is one of China's biggest developers but in January global credit ratings agency S&P declared its Hong Kong offshoot "in selective default" after it got approval from lenders to delay a $725m senior unsecured note payment.
S&P told Reuters: "We view the transaction as distressed restructuring tantamount to a default because R&F HK has insufficient resources and limited funding options to repay the maturing notes in whole in the absence of the transaction."
However S&P said the credit rating of the Guangzhou parent remained unchanged, at CC, for now because it was not the guarantor for the bond in question.
It is not the first Chinese developer to be hit by debt problems. Last year the giant Evergrande collapsed sending shockwaves around the world. It owns thousands of flats in hundreds of cities across China – with 800 unfinished projects – but observers say it overreached itself. In December the Wall Street Journal described it as "the world's most debt-saddled developer". It is now the subject of a huge restructuring by the Chinese state which is attempting to head off a political crisis triggered by overborrowing in the property sector.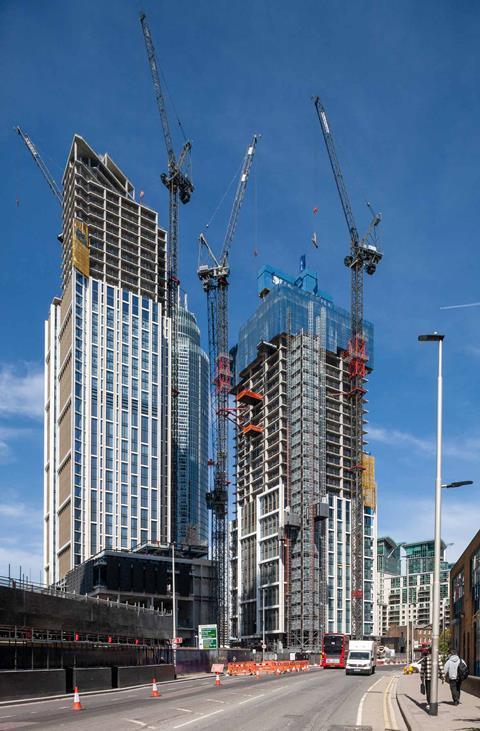 There are fears the wider problems will unnerve the market, making flats harder to sell.
Nonetheless Chinese architects top several of the global income charts, including residential, in this year's WA100.
Work on the Nine Elms project is not expected to get back up to speed until the spring.
In a statement R&F said: "Work is continuing at One Nine Elms while we discuss a set of issues with Multiplex to ensure a successful completion of the development."
Multiplex, which is understood to have been unpaid for months, declined to comment but it is likely the firm's missing payments run into millions of pounds while the contractor has continued to pay subcontractors, including concrete frame specialist Byrne Bros, for their work.
A joint formal announcement on the scheme, which has topped out, is expected from Multiplex and R&F later this week.
Due to be finished at the end of next year, it will include close to 450 apartments along with a five-star hotel as well as public space – although the scheme was hit by claims last year that R&F has struggled to sell the homes.
Four years ago, R&F bought the job off another Chinese developer, Dalian Wanda, which was facing financial strains at the time.
This made Multiplex the third contractor appointed to the project. It was originally due to be built by a pairing of Interserve and China State Construction Engineering Corporation, appointed in 2015, but that team was replaced by Balfour Beatty the following summer only for the contractor to walk away that autumn after failing to agree terms. Multiplex was appointed at the start of the following year.