West London project due to complete in 2022
New images of how Renzo Piano's £850m Paddington Square development will look when finished have been released.
The 14-storey office block, which is also known as the Cube, is due to be completed by February 2022. Developer Sellar's plans include retail and restaurant space along with a new public square.
Demolition work at the west London site is complete, while piling is substantially complete with enabling works now underway.
Known as the basement box, the piling and enabling works scheme will eventually be the new home of a ticket hall for the Bakerloo line station at Paddington, along with retail. Main construction should start next summer.
The scheme has been highly controversial since its first incarnation as the much taller Paddington Pole. On a site next to Brunel's grade I-listed Paddington station in London, it involved the demolition of an Edwardian sorting office deemed a local "building of merit".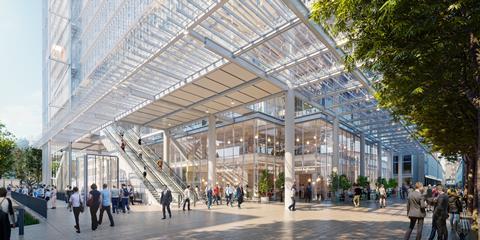 The government refused to call it in and refused to give reasons - leading to a ticking off by the Court of Appeal last year. Conservation group Save Britain's Heritage took the government to task for failing to abide by its own transparency pledge.
The court ruled that ministers must abide by their own rules and give reasons for not calling in projects. The case set a precedent for future controversial developments.