72-storey office block dubbed Paddington Pole was sliced by 80% after outcry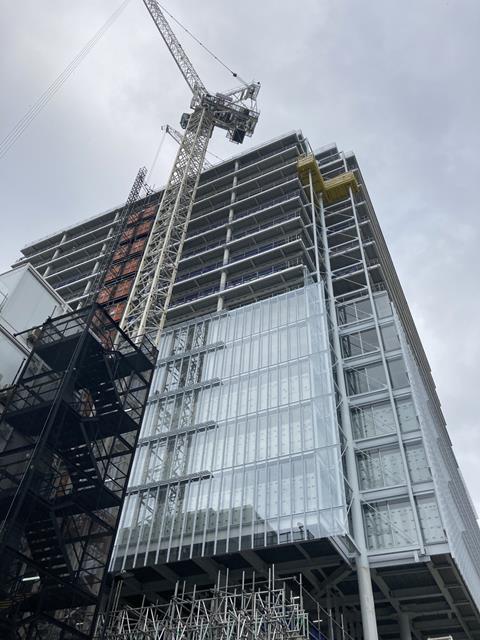 The cladding has begun to go up on Renzo Piano's £825m Paddington Square tower, giving the first idea of how the "ice cube" will look once complete.
Piano was forced to lop 58 storeys, or 80%, from his original proposal, after a huge outcry over the damage the so-called Paddington Pole would do to cherished views.
When he presented his revised designs in 2016 he said: "When you exit [Paddington] station you will see a clear floating cube 'levitating' above the ground.
"We are obsessed with lightness and have given the building a sense of flying above the ground and defying the laws of gravity. The façade will be crystalline, like a fine lace of steel and glass in a clear pattern like the beautiful arches and skylights of Brunel's station."
Renzo Piano's vision:
The 14-storey building, which he has designed for Great Western Developments and Sellar, the same developer he worked with on the Shard, will be lifted 12m above 1.35 acres of new public realm.
Instead of the Pole's 330 luxury flats the Cube will contain 360,000sq ft of office space plus 80,000sq ft of retail and restaurants over five levels, including a rooftop restaurant.
The redesign has also involved William Matthews – who designed the Shard for Renzo Piano Building Workshop before leaving to set up his own practice. Pringle Richards Sharratt designed the office layouts, BDP and Matthews the public realm and TP Bennett the retail design.
Piano originally said the only way to regenerate the area was to build a tall tower.
But his 254m high proposal attracted fierce opposition from Historic England and the Victorian Society, with architects Terry Farrell and Ed Jones among hundreds who posted comments on the application.
Objections related to its visibility on the skyline and also the fact it necessitated the demolition of a Royal Mail sorting office which has occupied the site for 125 years.
"Demolishing this high-quality building would harm the setting of the grade I-listed Paddington station, other listed buildings and the Bayswater Conservation Area itself," said James Hughes, senior conservation adviser at the Victorian Society at the time. It could easily have been retained and redeveloped as part of a more contextual scheme, he said.
Even after the significant redesign the scheme faced a bumpy road with the then communities secretary Savid Javid issuing an Article 31 notice preventing Westminster council from issuing formal planning consent for the scheme to allow him time to consider whether it should be called in.
Work finally began in 2018 after several court battles and was due to complete this year - before covid struck.