235-home scheme being developed on a former quarry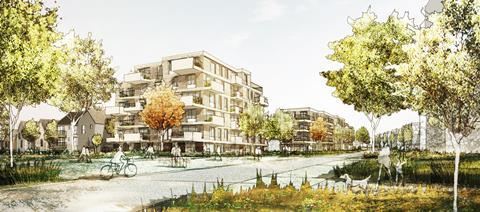 PRP's plans for a further 235 new homes in the new village of Ashmere within Ebbsfleet Garden City have been approved.
The scheme is being brought forward by a joint venture between Countryside Partnerships and Latimer, the development arm of Clarion Housing Group.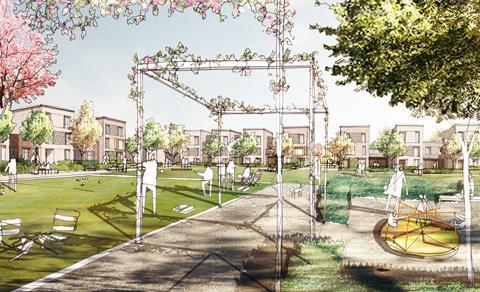 The proposals include 25% "affordable" housing and have a focus on outdoor spaces that prioritise pedestrians and cyclists over vehicles.
Ben Williamson of PRP said they had drawn inspiration from the character of the chalk cliff walls of the old quarry, within which the development will sit.
The surrounding Kent landscape and rural farmland character had inspired a more informal edge to the new settlement which becomes more urban towards the centre of the village focused around a new neighbourhood green, he added.
"We are delighted to receive this endorsement of our proposals for the next phase of the new garden city in Ebbsfleet," said Williamson.
"It has been a very positive collaborative effort that we hope will achieve our goal to deliver a diverse, characterful and sustainable new community within the new garden city."
In January, it was announced that the former interim Homes England chair Simon Dudley would head up the Ebbsfleet Development Corporation.
A former leader of the Windsor and Maidenhead council, Dudley will chair the body for the next four years as it aims to deliver 15,000 homes on the site in north Kent.
The development corporation, which has been chaired since its inception in 2015 by Michael Cassidy, has already overseen the creation of around 2,000 homes.