Sarah Wigglesworth and Turner Works also worked on riverside development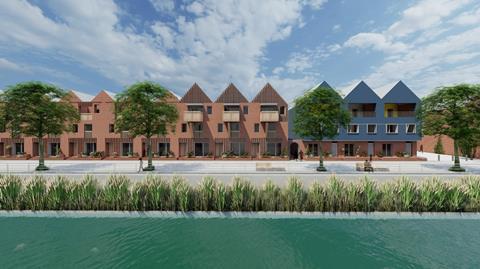 The final phases of a major low-carbon housing development in Nottingham have been lodged for planning.
Proctor & Matthews Architects, Sarah Wigglesworth Architects and Turner Works have designed the last four phases of the Trent Basin project for developer Blueprint, which is managed by Igloo Regeneration.
The final phases would add 111 homes to the scheme, which is set to provide a total of 300 apartments, terraced houses and maisonettes.
The homes have been designed to prioritise sustainability, with the Proctor & Matthews-designed masterplan aiming to reduce vehicle use with wide pedestrian avenues and cycling routes.
Electric vehicle charging points will also be provided across the site, while a series of connected courtyards aims to provide safe places for social gatherings, Proctor & Matthews said.
The 3ha site lies at the eastern edge of Nottingham's wider Waterside Regeneration Zone, a 250-acre industrial area south of the city centre bordering the River Trent and Nottingham Canal.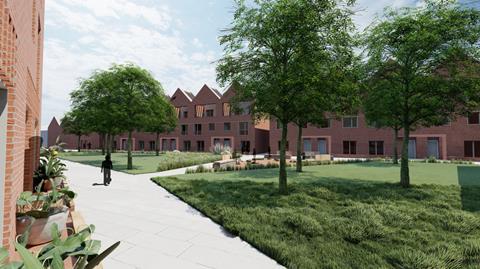 Trent Basin is located around a historic wharf, with the masterplan using a set of materials including brick and corrugated cladding which are intended to reference the area's former dockside structures.
The first two phases of the scheme are now complete, with a third currently under construction.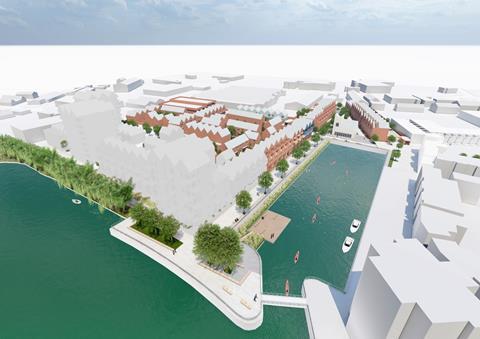 This week Proctor & Matthews was given a boost when the studio's plans for a 2,000-home redevelopment of the Carpenters Estate, next to the 2012 Olympic stadium, were backed by residents in a ballot.
The plans, which have been designed with Metropolitan Workshop for developer Populo Living, also include new community and sports facilities, green areas, play areas and office and retail space.