Colour Palace was collaboration with artist Yinka Ilori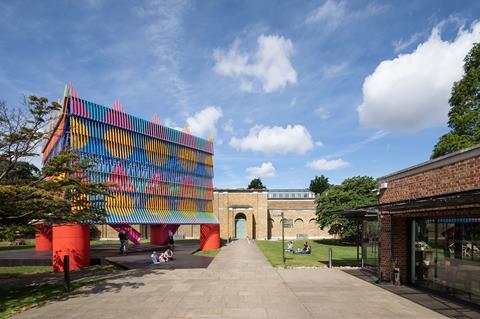 Pricegore and artist Yinka Ilori have taken the wraps off the second biennial Dulwich Pavilion.
The 145sq m Colour Palace opens to the public tomorrow on the lawn beside Soane's Dulwich Picture Gallery as part of the London Festival of Architecture (LFA).
The £150,000 folly completed on June 8 after starting on site on May 20. It will remain open until September 22 and host various events.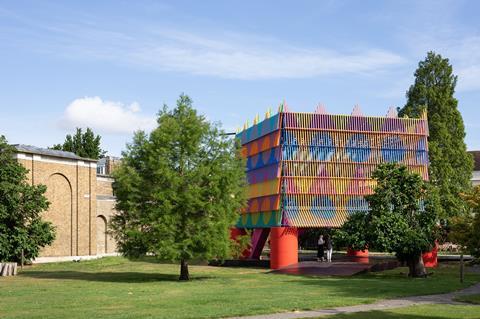 The design was picked from a shortlist of six after an open design competition held last year. The other finalists were Casswell Bank Architects, e10 Studio, Flea Folly Architects, Projects Office and Pup Architects. Pup was the winner of the public vote.
The inaugural Dulwich Pavilion was designed by IF_DO for the 2017 LFA.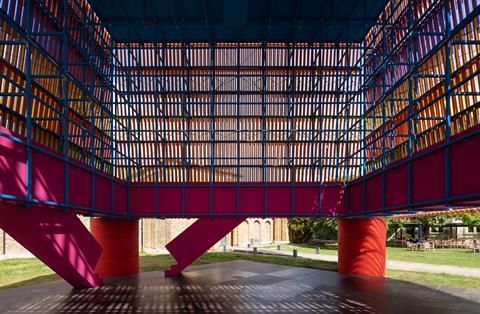 The Colour Palace is a lightweight timber pavilion raised on monumental feet. It uses just one small size of timber with all the joints on show revealing the craftsmanship and structural logic, said Dingle Price and Alex Gore of Pricegore.
"The brief for the Dulwich Pavilion demanded a celebratory response to John Soane's outstanding historic architecture, and having Yinka as part of the Colour Palace design team has really helped us to achieve that," they said.

"The Colour Palace has been a wonderful opportunity for us to design our first prominent civic building: alongside several exciting housing projects we hope it will lead to further civic and cultural projects and the chance to work with great clients like the Dulwich Picture Gallery."
Internally, the pavilion resembles a small theatre-in-the-round. Visitors can climb to a perimeter gantry within the slender structure. The squat overall volume of the pavilion is informed by the cubic composition of the grade II*-listed picture gallery, they said.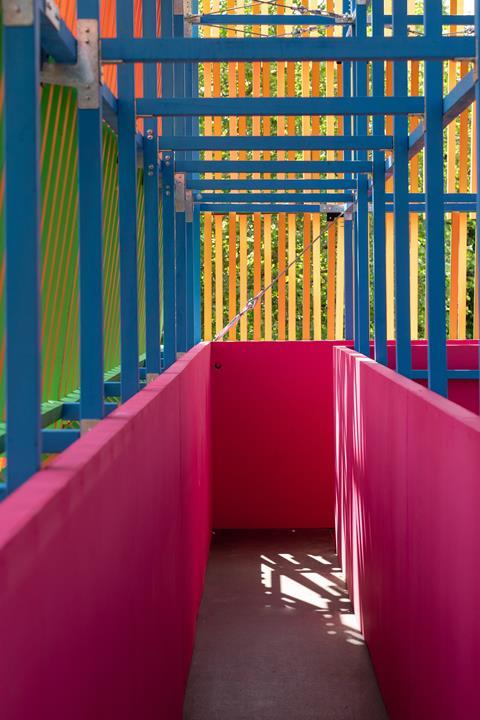 LFA director Tamsie Thomson said: "From the moment we first saw Pricegore and Yinka Ilori's proposals we knew it would be something special. As one of the highlights of the 2019 London Festival of Architecture, this amazing project is the embodiment of what happens when you transcend architectural and artistic boundaries."