Michael Collins on the exhibition which opens to the public next week
An uncanny group of metal and timber sentinels greet visitors when they enter the courtyard to the 2019 summer exhibition at the Royal Academy. These hybrid figures by Thomas Houseago mingle with the statue of Joshua Reynolds and are part of a collection of over 1,500 works coordinated by Jock McFadyen RA which opens to the public on the 10 June.
The theme continues as visitors are drawn into the colourful Wohl central hall, entitled; 'menagerie' which features an eclectic mass of species by individual artists that resonate beautifully within the space. All is not how it seems however; the beauty of nature is equally matched by its dystopian qualities, through unexpected distortions of its familiar animal forms and when viewed against a bleak monochrome photographic background of townships from one side of the gallery. Standout pieces within the space include those by Polly Morgan and Charles Avery.
As a whole the exhibition outwardly mirrors the colourful optimism of last year's offering by Grayson Perry; however, McFadyen weaves a more serious tone amidst what appears as a broad range of thematic work including pieces by Tracey Emin and Anselm Kiefer.
A series of 'bedrock' pieces seem to explore the theme of nature in the Anthropocene age. The large room features pieces by Burtynsky, and 'SeaLevel' by Carol Robertson that explore human relationships to the landscape, whilst Barbara Ray curates a gallery themed around the Arctic.
This thematic backdrop sets the scene for The Architecture Room curated by Spencer de Grey, that explores the theme of 'sustainability'. Recent Extinction Rebellion protests on the streets of London, sobering statistics released by the IPCC Incheon report, and recent calls to arms by Stirling Prize Laureates about how seriously the profession takes the issue, suggest this a well-timed intervention.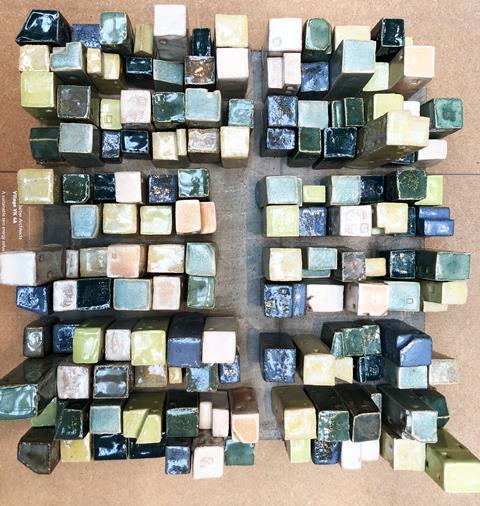 As head of design at Foster and Partners, De Grey has been responsible for a number of the practice's projects; including both historic structures and new buildings. The practice recently delivered Bloomberg London,the world's most sustainable office building. However, De Grey's brief specifically called for explorations of sustainability not simply as a technical exercise but as a practice in its widest sense. Refreshingly this is reflected at the micro-scale and the macro-scale, and through high-tech and low-tech media.
The Weston room is the home for this year's show; visitors are drawn in from across the eastern axis of galleries by the presence of two birch canopies that sit above a dense wall of models and recycled timber plinths. Upon entering the space, it becomes apparent that there are routes through larger exhibits to a small grove within. Visitors weaving past Epic models by Chipperfield and a passive winery by Eleanor Derbyshire.
Each piece includes a justification for its inclusion within the theme, approaches are wide ranging, and beyond the more familiar eco-credentials. As an antidote to darker pieces within the main exhibition, De Grey seems to emphasise the existence of a sustainable 'optimism' expressed through contributions from the familiar global superstars mingling with works from emerging practices from the UK, such as Price Gore's Dulwich Pavilion entry along with student work.
Under a birch canopy more intricate models can be enjoyed with framed views back toward the perimeter walls which feature an array of large drawings. These are grouped thematically from utopian 'environmental infrastructures', and robotic enabled schemes by Ivan Tsz Long Chan and Mark Smout to more familiar commercial renderings and environmental sectional studies by Wilkinson Eyre, Heatherwick studio and Grimshaw.
De Grey sets aside the witty curatorial games that Piers Gough employed as part of last years exhibit, instead focusing on the sustainable merits of individual projects and juxtapositions in scale and tactility. Timber skyscrapers by PLP and the University of Cambridge, vertical gardens and huge sectional models of the Leadenhall building RSHP site are given equal equivalence to an ethereal beach dwelling made from washed up plastic bottles by WSP. Within the grove; glowing, laser cut models of mega projects such as the Amaravati city masterplan by De Grey's practice face off with a beautiful handmade model of Village VK by Peter Barber architects made from clay apparently dredged from the site's riverbed.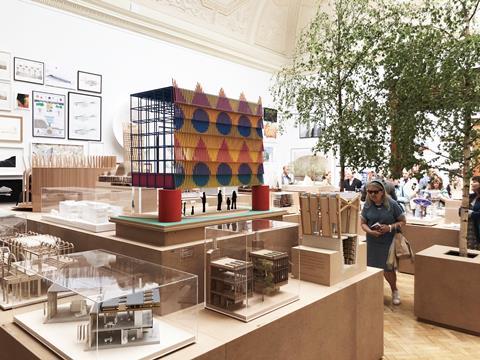 Sustainable strategies provide a counterpoint to built objects; a fascinating hand drawn arboricultural diagram by Threefold Architects suggests how a resultant architecture could emerge entirely from the management of an ancient woodland. At the gallery entrance a series of digital displays present images of Lifschutz Davidson Sandilands' strategy to light the Thames, a scheme that first aims to change how the urban landscape is perceived as a means to dramatically reduce energy. At the micro scale; the potential of adapting individual building components is presented by an intricate sliver of ceiling from Bloomberg's office, Elizabeth Gilligan's bio receptive concrete and fragments of a monolithic timber arch by Monika Marinova.
The question of not building, but instead consciously reusing existing building stock emerges; Dannatt Johnson provides a fascinating pictorial history of the various lives of the Dreadnought hospital in use. Caruso St John's Newport Street and Heatherwick's Mocaa teach us perhaps more obvious lessons about the civic and architectural benefits of such re-use.
The success of this year's architecture room is arguably the creative tension that is revealed within the subject area of sustainability. On one hand a profession traditionally focussed on large scale engineered solutions to the questions raised by a changing planet; arguably mitigation strategies that augment our market led status quo. On the other hand, an apparent self-critical response that treats both social and environmental issues as intrinsic to sustainability. Many of the smaller housing projects, AHMM's centre for child bereavement, and Jestico & Whiles' underground school suggest genuine paradigm shifts in the way we live. However, this latter theme is perhaps best exemplified when architecture itself is employed as a provocation. Ellie Sampson's critical paper models entitled 'The fourth estate', photographs of foxes living in 6A's Jurgen Teller's studio relate back to the approach taken by artists in the main exhibition, that aim to more provide nuanced insights into our relationship to nature.
The exhibition runs until the 12 August.