Thomas Ford, EBBA Architects and Es Devlin also involved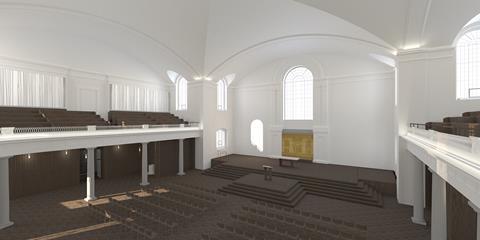 Work has begun on John Pawson's restoration of a grade II* east London church.
The project will reconfigure St John at Hackney into a "cathedral of creativity", said rector Al Gordon.
The work is being led by ecclesiastical and conservation architect Thomas Ford & Partners whose recent work includes projects at Sheffield, Guildford and Rochester cathedrals.
The work in Hackney will see the church returned to its original Greek Cross plan, "reconnecting the church with its original architectural language", according to Rev Gordon.
It will provide more space for church services and when the space is used as a music venue. New features will include the creation of two new chapels in the north and south wings, a raised stage and a range of new facilities.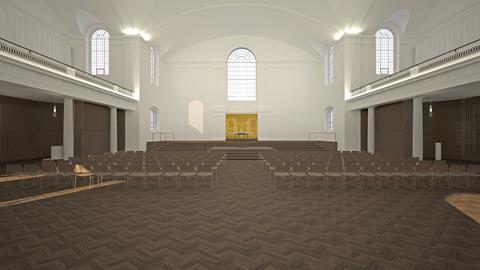 Rev Gordon said: "The beginning of our main works marks a major milestone in the restoration of St John at Hackney. Over the next year we will see our church transformed to become a cathedral of creativity, and we have assembled an amazing team to make this happen.
"We want to make this a place that brings life to the community here long into the future, with all welcome to walk through our doors – our vision is simple: to bring hope to the heart of Hackney."
Other designers involved in the project include OMSE and EBBA Architects who will work on interpretative materials about the church's history, heritage and community, and visual artist Es Devlin, who has collaborated with Beyoncé and Kanye West.
A £1.84m National Lottery grant will also support a three-year activity plan, which will include the creation of a community archive, an oral history project, a sensory garden and guided tours.
The Anglican parish church for Hackney, it has seen attendance double in the past year, with more than 800 people attending services and other activities each week.
Work is set to complete at the end of this year.