Architect wins design contest for department store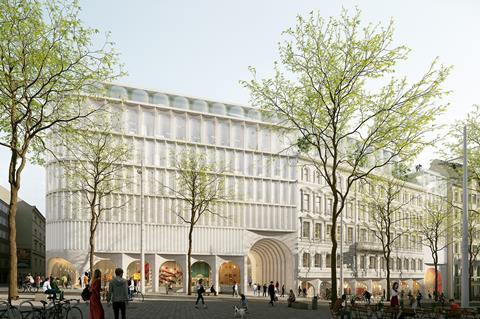 OMA has won a design competition for a new department store and hotel in the centre of Vienna.
The practice said the design of the façade was inspired by the "gentle and sophisticated geometries" of the Vienna Secession.
The scheme, in the Austrian capital's Museumsquartier, will be fronted by a branch of the famous KaDeWe department store. A second volume, containing a hotel, will be linked by a green passage leading up to a series of public roof gardens. These will vary in character from sun decks to groves of trees and will provide views from all sides of the building over the city.
The building will connect to the pedestrian network of the area and provides new types of public spaces in Vienna's historic centre.
Rem Koolhaas' practice was appointed after a final jury meeting this week. OMA is also working on the renovation of the Berlin branch of KaDeWe.
Directors Ellen van Loon and Ippolito Pestellini Laparelli are leading the Viennese project with senior architect Laurence Bolhaar. They put out a statement saying: "The value of department stores should be measured by their ability to engage the local context.
"We are very excited about the opportunity to work in the historical heart of Vienna, and with this project we intend to highlight its qualities.
"The building is not an icon but rather an architectural device that establishes new urban connections and public spaces through its own internal organisation."