Wafra tower will be architect's first built project in Gulf state
OMA has revealed images of what is set to be its first built project in Kuwait.
The architect was appointed after an invited design competition for a residential tower on the waterfront of Kuwait City's Hessa al Mubarak district.
The Wafra tower design consists of five blocks marked by a rectangular grid. They form a vertical stepped sequence rising from L-shaped volume to slab and are connected by an exposed, monolithic core.
The practice's Iyad Alsaka, Reinier de Graaf, Jad Semaan and Adrianne Fisher who are leading the project said the structure would maximise occupancy on the lower floors and optimise views along the vertical axis of the building. Flats range from one-beds to penthouses.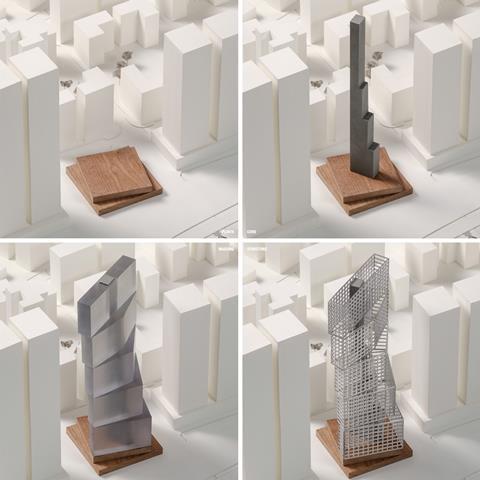 The stepped blocks generate terraces with landscaped spaces for recreation, a pool and diwaniyas (social spaces for Arab men to gather).
At street level the plinth contains a raised lobby with lounge areas and co-working spaces with sea views.
The development of the masterplan for the Hessa al Mubarak district is part of a construction boom in Kuwait, with construction projects worth over US$460bn currently active.
Construction is expected to start at the end of 2020.