Former Mecanoo director who oversaw much-derided project revealed to have been on £220,000 a year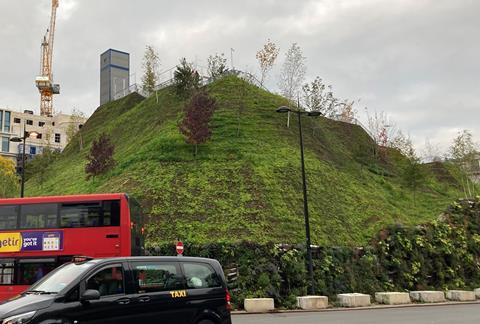 It has emerged that Westminster council's official in charge of MVRDV's disastrous Marble Arch Mound project was on £220,000 a year, a salary higher than the £217,545 paid to the local authority's chief executive.
Elad Eisenstein, who trained as an architect and urban designer but is not Arb-registered, oversaw the much-derided temporary structure aimed at drawing shoppers back to Oxford Street after the pandemic. It is due to close on Sunday and its deconstruction is expected to start on January 18.
Eisenstein, who was the Oxford Street District programme director for Westminster council before his recent departure, studied and taught at the AA and has been a director at Mecanoo, Arup and Ramboll. He is also a member of the mayor of London's infrastructure advisory panel.
He describes himself on LinkedIn as a "cities and urban planning expert with two decades of international experience specialising in leading, designing and delivering complex, large-scale and sustainable urban projects".
Labour councillor Paul Dimoldenberg said after Eisenstein's salary was disclosed in a council document: "The Marble Arch Mound has been a disaster from start to finish."
The news follows the resignation of the council's deputy leader, Mervyn Caplan, last summer after the 25m-tall artificial hill became a laughing stock and its cost almost doubled from £3.3m to £6m.
A highly critical internal review last year into the project described the costs as "avoidable" and "devastating" and the local authority stopped charging people to visit the structure from August.
The mound was part of the council's wider £150m investment in the Oxford Street district. Footfall in Oxford Street was 54% below pre-pandemic levels and nearly a fifth of shops on the street were shut last summer, the council explained.
Winy Maas, founding partner of MVRDV, the celebrated Rotterdam-based practice behind the project, told the Guardian before the mound opened that he was "fully aware that it needs more substance" and explained that a heatwave had hit the plants. "I think it still opens people's eyes and prompts an intense discussion. It's OK for it to be vulnerable," he said.
Westminster council aims to have the mound completely taken down by May. The salary was disclosed in a document entitled 'Senior Salaries at Westminster Council, April 2021', which the local authority is obliged to publish each year with salaries of staff earning more than £68,000 annually.