Practice unveils images of major six-tower scheme which is its first in South America
MVRDV has revealed proposals for another hill-themed project, a major mixed-use scheme in Ecuador consisting of six towers up to 117m in height.
Known as The Hills, it is planned for a waterfront site in the port city of Guayaquil and is the Marble Arch Mound architect's first project in South America.
Designed for Quito-based developer Uribe Schwarzkopf, it will contain housing along with an ice-skating rink, a spa and a yoga studio.
The scheme's towers will be connected by a plant-filled podium level - described as a "terraced green valley" - containing amenities including a sports field and a large amphitheatre.
It will be one of the first large real estate projects in Ecuador to be supplied with clean energy, with the scheme aiming to be 100% powered by photovoltaic panels and heat pumps. The buildings will also collect rainwater for use in the gardens.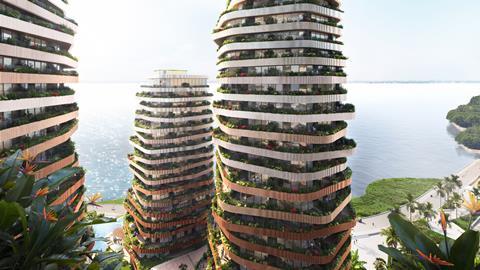 The project is part of a wider urban plan for Guayaquil, the country's second largest city, which will see the creation of a new public pedestrian promenade along the banks of the Guayas River.
MVRDV founding partner Jacob van Rijs said the tower complex is "almost a city in itself… a mini skyline".
"It was important for us that the project was not just an island in the city, but that it offered access for others as well, that it would give something back in the form of a public plinth," he added.
"So it's a very exciting space for people to go to, somewhere that we hope people can meet with friends."
Uribe Schwarzkopf general manager Joseph Schwarzkopf said the project, the firm's first in the city, "represents a milestone for eco-friendly design in Ecuador".
MVRDV attracted unwelcome press attention in the UK earlier this year when the Marble Arch Mound project, an artificial hill in London's West End, became a national laughing stock.
Westminster council's deputy leader Mervyn Caplan resigned from his position over the scheme, which the practice later said that it should have walked away from after it was "pushed out of the construction process".
Some plants on the mound's slopes had dried out through lack of water, while large sections were covered with plastic. The mound's lift was also exposed at the top, sticking out "like a sore thumb" in the words of the practice.