MVRDV rips into Westminster council and contractor FM Conway over 'loveless execution' of its designs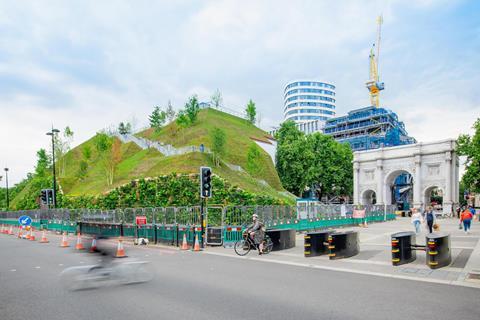 The practice responsible for Westminster council's disastrous Marble Arch Mound attraction has said it should have walked away from the project when the authority lost interest and it was excluded from construction-phase talks.
Rotterdam-based architect MVRDV said the project, which went through numerous design changes and became a laughing stock when it opened before it was finished last summer, should have been a celebration of London but became a "loveless installation".
Conservative-run Westminster's deputy leader Mervyn Caplan resigned from his position over the mound debacle in August last year. Last month, it emerged that the official who oversaw much of the project – former Mecanoo director Elad Eisenstein – was on a salary of £220,000. The figure is almost £3,000 a year more than the authority's chief executive.
In a blog setting out its side of the mound saga, MVRDV said it had "never before experienced such nonchalance and laxity" with its design work and found it "inexplicable" that the project's budget had spiralled from £1.25m to £6m.
MVRDV said Westminster had been impressed with the practice's Stairs to Kriterion installation, designed to celebrate 75 years of Rotterdam's reconstruction after the Second World War, and wanted to replicate its success to boost footfall on Oxford Street following the coronavirus pandemic.
The practice said its original design was for a 25m-high viewing platform that would rise directly above Marble Arch, offering both unprecedented views of John Nash's grade I-listed structure and Hyde Park beyond.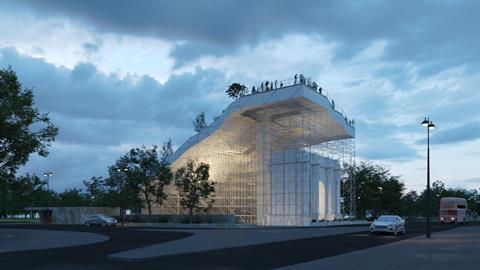 However, MVRDV said concerns expressed by Historic England and English Heritage led to a change of plan over the "mound" proposals adjacent to Marble Arch, proposals which became steeper as site constraints emerged.
The practice said that Westminster appointed contractor FM Conway to realise the project and "barely looked at it again".
MVRDV said that although FM Conway brought the practice on board as lead designer, over time it was "systematically excluded from communication" with the executive architect and landscape architect.
"Through a mixture of budget constraints and a lack of communication, many details concerning the mound's construction were decided without our involvement," it said.
"A few pictures of the progress of the installation and the claim that everything was going marvellously was all that we had to work with in Rotterdam. Travel was not possible due to covid measures, so the team could not check progress on site, and frequent communication efforts from our side toward WCC were increasingly ignored."
MVRDV said the decision to open the Marble Arch Mound to visitors – at a cost of £8 per person – before it had even been completed was "nonsensical" and nothing short of a disaster". Some plants on the mound's slopes had dried out through lack of water, while large sections were covered with plastic. Meanwhile the mound's lift was exposed at the top, sticking out "like a sore thumb" in the words of the practice.
"As a practice, we have rarely seen such a loveless execution of our designs," it said.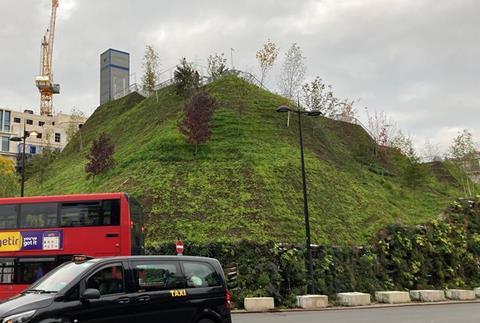 MVRDV said the £10,000 fee it was offered by Westminster for its initial design work on the project represented a significant loss because it did not even cover staff time. The practice said it did not normally work under such conditions, but had chosen to make an exception because of the pandemic. It added that its retention by FM Conway had involved a £40,000 fee.
"Perhaps we should not have worked for a fee so low that it allowed the client to sidestep the usual procedures," it said, referring to the fact that a competition was not required for the £10,000 contract.
It added: "Perhaps when we were pushed out of the construction process we could have stepped out because we couldn't guarantee the project's quality. This is certainly our greatest sin: we should have ended our participation precisely at that moment.
"Finally, perhaps when the criticism began to mount, we could have voiced our own concerns, instead of complying with WCC's clear preference for ambiguity."
However the practice said it stood by its initial design for the project.
"The Marble Arch Mound adheres to the MVRDV philosophy concerning the densification and greening of cities," it said.
"That philosophy broadly includes the strategy of creating artificial nature in dense cities, as a means of raising awareness and changing perspectives on the way we perceive our built environment and the mixing of functions.
"This is a project we will never step away from and we commit to continuing on this course. Unfortunately, the application of this strategy in this particular structure is not as we would have wished – and for our role in this, we offer our sincere apologies."
Westminster council said 250,000 people had visited the Marble Arch Mound before it closed for the last time.
"We are grateful to MVRDV for their designs and the hard work that they put into the mound project," it said.
FM Conway declined to comment.