Practice pips shortlist including Charles Holland and Roz Barr for project opposite Lambeth Bridge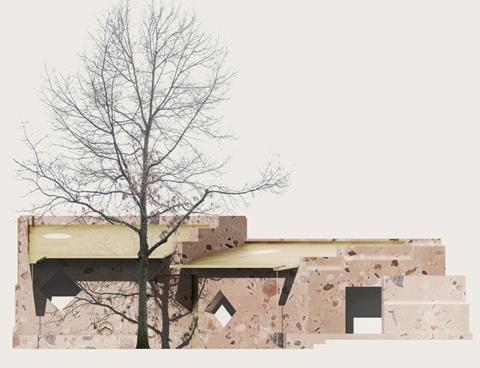 Mary Duggan Architects has won the competition to design a pavilion for south London's Garden Museum, at Lambeth Green.
The practice beat five other shortlisted candidates to design the structure, which will serve as an entrance area to the museum, based in the former Church of St Mary's at Lambeth. The new building will also provide facilities for staff and volunteers at the museum's new 5.3-acre park.
Museum director Christopher Woodward – who was also chair of the judging panel – said a total of 128 entries were received for the original competition call in May. Duggan was shortlisted alongside runner-up Cooke Fawcett Architects as well as Charles Holland Architects, Roz Barr Architects, William Guthrie and a collaboration between Bartlett graduates Adrian Yankee Siu and Shi Qi Kiki Tu.
Woodward said the museum's brief for the project was "just a shed and a room for garden volunteers to gather" in functional terms. However he said the design aspirations were loftier.
"We wanted it to catch the eye, to draw together a fragmented urban junction, and in a city of meritricious high rise to declare the values of horticulture, care and neighbourliness," he said.
>> Read Shortlist announced for Garden Museum pavilion
>> From the archive: Dow Jones completes £7.5m Garden Museum expansion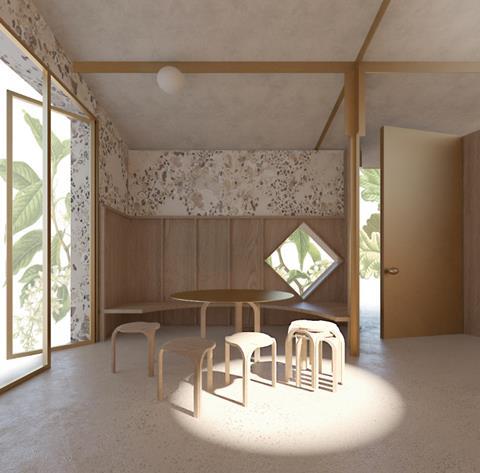 "The judges were seized by Mary Duggan's response to the Embankment, and how she created a generous sense of a new urban garden – and thought that a wall which recycles old London materials into something exciting, ethical and new would be something really special."
Duggan's winning design will be made from reclaimed stone salvaged from buildings in the capital and bound together with a cement-free paste.
The Garden Museum is currently fundraising to pay for the project.
Project description
The proposal for The Garden Museum is, typologically, an aggregated form with functions distributed along the periphery of the garden. Acting as a supporting structure, ease of access and practical adjacencies are placed in the foreground, with a design approach linked closely to agricultural architecture, that of homesteads and walled gardens, whereby an inherent and intuitive functionality prevails. The complexity in applying this typology to this site lies in articulating and mediating between the public and domestic realms - street-facing and garden-facing - two opposing and contradictory conditions.
The proposal is made up of a series of interconnected building fragments each with a clear function which in unison, softly fortify the garden. Each fragment is altered; in height, in frontage and detail, and curated precisely to its facing condition; internally, to celebrate horticulture and externally, to celebrate the city.
In taking this position, the threshold to the garden is not portalised, rather left as a gap, or absent fragment to create an intuitive democratic entrance position with an unobstructed view of the garden.
The building material will be made of reclaimed stone salvaged from London buildings and bound together with a cement free paste.
Source: Mary Duggan